Post Content
Mary Worth, 8/4/15

I've gone through a lot of fads and obsessions over the eleven (!) years I've been writing this blog, but Mary Worth is, and always has been, my lodestar. A quick peek at my stats shows that fully a quarter of the posts I've ever written discuss this strip. And you know what? It deserves all the attention. Today's strip, in two efficient panels, encapsulates everything great about it: the overblown narration box, the crazy dutch angles in panel one as Ian pulls his hair out in consternation, and Toby's twisted rage-face making her look like she's planning on slitting Ian's throat with that X-Acto knife. All this drama, of course, is turning on a relatively minor dispute, which could be resolved in one of several wholly acceptable ways — Ian could apologize and reschedule, Ian could cook something simple himself, Ian could explain his own error and ask the University Director what kind of takeout he'd like. But no, the Camerons have mutually and angrily decided to spin a terrible web of lies, in which Toby will attempt to pass off restaurant takeout food as her own, for literally no good reason at all. We can only hope this all unravels terribly and violently over dinner and Ian's quest for academic advancement is ruined, ruined, but no matter what I am salivating to see what comes next, just as Ian probably is at the thought of takeout food.
Judge Parker, 8/4/15

Judge Parker's joys are more subtle, but still worth savoring. Obviously when Sam's close personal new friend (with whom he will never interact again, not once) gave him a skeet gun as a gift, it was a $20,000 Italian skeet gun. Unlike Sophie, I have no desire to Google anything about skeet gun models or their cost or nation of manufacture, so I'm just going to enjoy Sam's rapid change of heart between panels one and two. "Hey, Sophie, this'll be a chance for us to bond, and … wait, it cost how much? Yeah, keep your grubby hands off my high-quality, luxurious gun."
Rex Morgan, M.D., 8/4/15

Speaking of class war, I too like my whiskey neat, and one of my go-to jokes about that is to say "in a glass" when people ask me how I like it — a joke I will now immediately stop making after seeing an addled British aristocrat say it in a soap opera comic strip. I'm pretty sure our put-upon servant is wearing gloves so that he doesn't leave prints when he eventually throttles Avery.
Hi and Lois, 8/4/15

Having Lois's head stick appear in front of the bottom of Dot's word balloon is an interesting visual choice, but the fact that said word balloon covers up the house shutters makes it look like Lois is sticking her head right through that window. Anyway, I'm focusing on this minutia because I don't want to deal with the fact that Hi and Lois's long marriage is riddled with lies and deception.
Pluggers, 8/4/15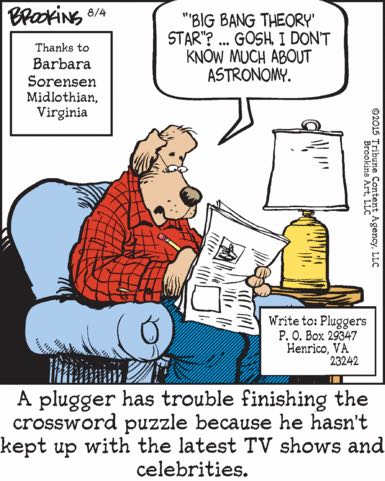 GOD DAMN IT PLUGGERS I'M NOT A HUGE FAN OF THE BIG BANG THEORY OR ANYTHING BUT IT'S BEEN ONE OF THE HIGHEST-RATED SHOWS ON TV FOR EIGHT YEARS. THERE'S NO WAY IT CAN BE DESCRIBED AS "THE LATEST" ANYTHING. EIGHT GODDAMN YEAAAAARRRRRSSSS