Post Content
Apartment 3-G, 8/22/15

I just want to emphasize, again, that the Tibetan storyline being spottily rehashed here ran six years ago, long enough that most non-obsessive readers have probably forgotten and/or died, and so you really have to wonder what someone who has no idea what's going on would make of "The Tibetan nuns saved my life, Tim. Imagine Margo's pain!" Though, honestly, who couldn't imagine Margo's pain as a bunch of non-Margo ladies try to muscle in on her man? Vows of chastity, shmows of chastity; only Margo gets to nurse Margo's almost-fiance back to health, capisce?
The Lockhorns, 8/22/15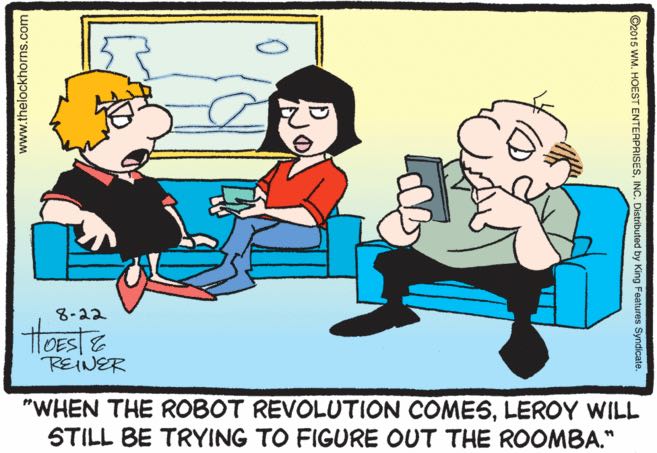 Loretta sure has been talking a lot about the end of human civilization lately, and really, who can blame her? Obviously she and Leroy haven't been able to muster the strength to end their awful hell-marriage, but maybe, just maybe, an apocalyptic event will do the work for them. Today she imagines the Machines who will replace us: a cleaner, better race, not causing each other endless pain with twisted, malformed emotions. They have no ability to love, but no ability to twist love around into hate, either.
Wizard of Id, 8/22/15

This might seem awful petty on the King's part, but remember, Jesus once smote a tree that annoyed him, so it's not like there isn't precedent. Sorry trees! It's open season on trees!
Mary Worth, 8/22/15

The only thing dumber than sitting right up front at your boss's endless lecture when you might have to sneak out before he's done is sitting right up front at your boss's endless lecture and staring at your watch with an expression of really theatrical irritation.