Post Content
Beetle Bailey, 9/22/15

I am very interested in how exactly the process in the Walker-Browne Amalgamated Humor Industries LLC writers room came together to generate this alleged humor product. "So, we're agreed that the punchline to Tuesday's strip should be that Otto, a dog who wears clothes and walks upright and thinks in complete sentences, will be peeing on Lt. Fuzz's garden. Any pitches on how we punch that up a bit?" "How about if he gets a really mean face when he thinks about urinating on the flowers. Like it's a threat." "I like it, I like it. Do we want to make it seem just a little sexual? The pee-threat?" "Yes. Yes. Now we're talking."
Mary Worth, 9/22/15

I know we have a few months left, but I'm calling it now: Mary saying "Toby has many friends" with a facial expression that clearly indicates that she knows that Toby has no friends, even Mary is more than an acquaintance, really, just someone she talks to because of physical proximity, so why don't we cut to the chase, why don't we end this charade, human connection is impossible on this side of the veil, is definitely the panel of the year.
Shoe, 9/22/15

English is of course the international language of business and diplomacy, the equivalent of French or Latin in their heyday, so we can't fault marginal cultures like the bird-people of Treetops for adopting it and the advantages that come with it. But still, it's sad that, in only a few generations, they've completely abandoned the ancient language of birds. Do they ever look at the dusty old books of Bird-Speech, the impenetrable symbols taunting them with the reminder of their ancient cultural heritage, now lost forever?
Mark Trail, 9/22/15

Oh hey over in Mark Trail Mark is about to tangle with some bad guys in that radioactive wreck! In the close confines of that boat it'd be dangerous to actually fire his spear gun, so I guess he's just going to stab them in the gut, one by one.
Wizard of Id, 9/22/15

Oh, did summer go by too fast for your tastes? I guess you don't really know how to do summer! I guess you should be more like this smug cartoon wizard here!
Pluggers, 9/22/15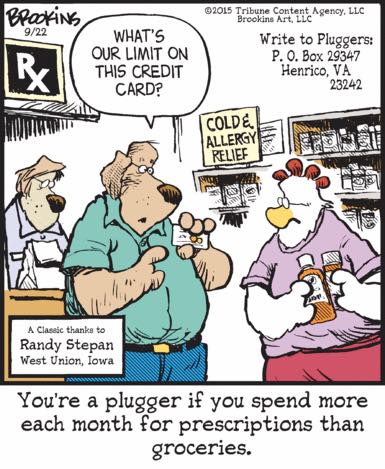 It takes highly advanced and extremely expensive science just to keep pluggers alive.