Post Content
Dennis the Menace, 10/20/15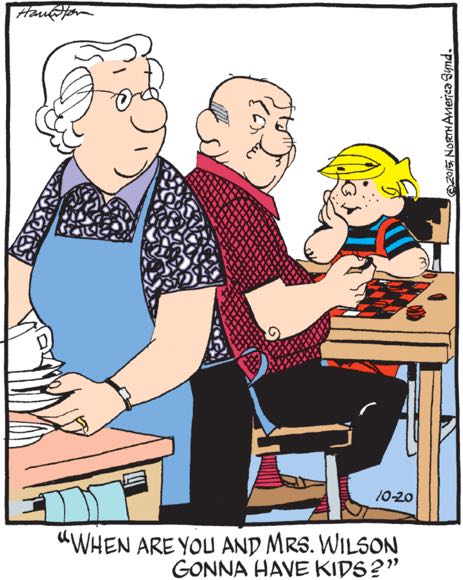 The angry look Mr. Wilson is flashing Mrs. Wilson here ought to send a chill down anyone's spine. One assumes that, like their namesake characters in Who's Afraid Of Virginia Woolf, the frustrated, childless George and Martha have an imaginary son that they discuss only with each other as part of their cruel banter, and now Dennis is getting too close to the truth. Unless … Dennis is their imaginary son? Will he wink out of existence, once he becomes self-aware?
Funky Winkerbean, 10/20/15

Hey, remember the interminable storyline where Holly became a comics nerd so she could put together a complete Starbucks Jones collection together for her son Cory, who was off in Afghanistan, and this helped her feel close to him when he was far away and in grave danger? In related news, remember how Cory's main deal before the time-jump was that he was an insufferable, ungrateful little shit, and it was never quite clear whether or not military life had cured him of it?
Gasoline Alley, 10/20/15

Hey, remember beloved comics characters Mutt and Jeff from days of yore? Well, Mutt's the only one left. Jeff's dead now.
Heathcliff, 10/20/15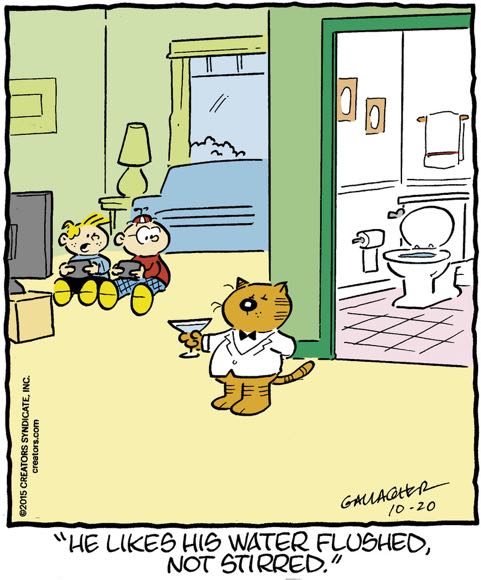 Haha, wouldn't it be funny if James Bond didn't wear pants, and drank water out of the toilet?
Six Chix, 10/20/15
LOL LADIES ALWAYS EXPECTING YOU TO INTERACT WITH 'EM WHADDYA GONNA DO AMIRGHT FELLAS