Post Content
Spider-Man, 3/4/16

You know, last week when I accidentally mistook this storyline's antagonist for Dr. Strange, some people got mad at me. How dare I call myself the Comics Curmudgeon when I can't even properly curmudgeon about prominent comics characters! Well, joke's on you people: I care a million times more about Mary Worth than I do about anything that happened in a superhero comic book ever. The fun thing about reading Newspaper Spider-Man for me is having really no preconceptions about what exactly is supposed to be happening at any given moment. Like, if I had been paying attention to the Marvel universe at all the I wouldn't have the joyful moment of discovery today when I learned that Dr. Strange's name is Stephen. Steve! Steve Strange! Oh, this is a delight.
Mary Worth, 3/4/16

"That's great, Mary, great. You always have friends. I never have to worry about you being lonely. I just, sometimes … how come nobody ever worries about me? Poor, lonely Dr. Jeff. You were gone, what, six weeks? Eight? I just … I get tired, you know. Tired of this life. I gotta … I'm just gonna rest my forehead on the steering wheel for a few minutes. Just rest my eyes. Wave the other cars around us, OK?"
Mark Trail, 3/4/16

"I meant … I meant sex, OK? I regret it now. It's stupid and I regret it. I don't want to die in a cave!" [sobbing]
The Lockhorns, 3/4/16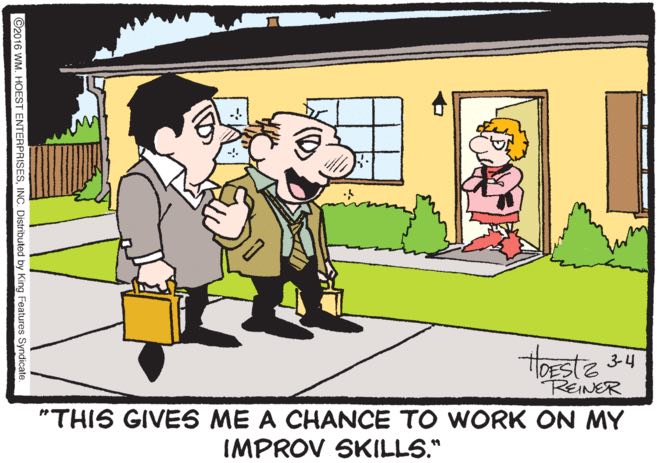 If there aren't a half-dozen improv teams named Drunk Leroy Lockhorn formed by the middle of next week, I'm going to be very disappointed.