Post Content
Barney Google and Snuffy Smith, 8/19/16

You know, what with Hootin' Holler being a largely lawless place, with a rugged landscape and local knowledge about property holdings more likely to be passed down through generations by word of mouth than delineated on any map, bringing in surveyors isn't the worst idea in the world! It could be a real growth industry, and could probably help cut down on the endless, violent clan feuds whose flareups can often be blamed on property line disputes, even if control of moonshine smuggling turf is ultimately the root cause. And, let's be real, it'd be pretty useful for someone in the Smif family to have a job.
Dennis the Menace, 8/19/16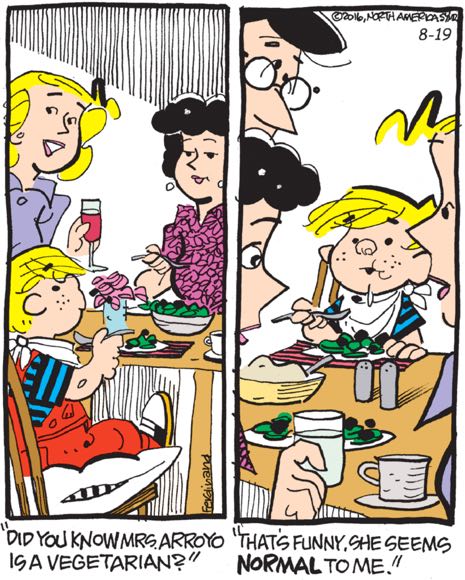 If you want to create a portrait of a child as a low-key but effective menace to everything you think about yourself as a person who heads a civilized family, this is a good start: he stares at your guest with dead eyes and shows unfamiliarity with basic concepts, all while drooling freely onto his own dinner.
Beetle Bailey and Crock, 8/19/16


Hey kids, did you know that some of America's longest-running comic strips take place in the military during actual violent conflicts? Beetle Bailey is stateside, for the most part, but its soldiers must know that they could be deployed at any time; in today's strip, their nighttime anxieties escalate, from right to left, climaxing with Beetle, who, panicked but clear-eyed, can only think of massive, world-obliterating explosions. Meanwhile, today's Crock reminds us that most of the main characters are occupation troops in a grinding, brutal colonial war. Happy Friday!