Post Content
Shoe, 9/21/16

You know how you can look at something for every day for years and never really notice it, until one day a slight shift in perspective totally blows your mind? Well, I read this dumb joke about how Shoe, the title character of the strip Shoe, spends a lot of time at strip clubs, and I was starting to work myself up to a joke about how the very idea of sexy live nude bird-women really brings to the fore the uncomfortable realities of how the bird-people of Shoe have both avian and mammalian characteristics, when suddenly I realized:
Shoe doesn't wear clothes.
Every other bird-person in this strip wears clothes! Not Shoe. He wears white low-top sneakers and smokes cigars but otherwise goes around fully nude. And everyone just goes along with this! What … what is going on here. Why is he naked all the time. WHYYYYY
Mary Worth, 9/21/16

I'm kind of surprised that this SAMHSA-approved substance abuse counselor is doing his intake with his newest adult patient with his mother sitting right there in the room with him, or that he seems to be taunting him for his inability to score Vicodin. I'm not that familiar with the treatment modalities for opioid addiction, though. I'm learning just like you all are!
Funky Winkerbean, 9/21/16

Becky's wordless emotional arc here, as she goes from hope that her husband's obsessive geekery might actually improve their family's financial situation for once to mingled anger and crushing despair, is legitimately the best-executed thing on the comics pages today.
Pluggers, 9/21/16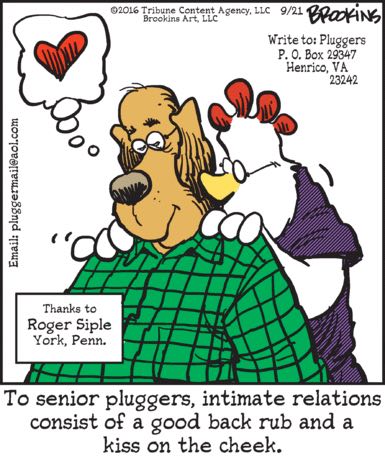 Pluggers haven't had sex for years, guys. Years.