Post Content
Judge Parker, 10/23/16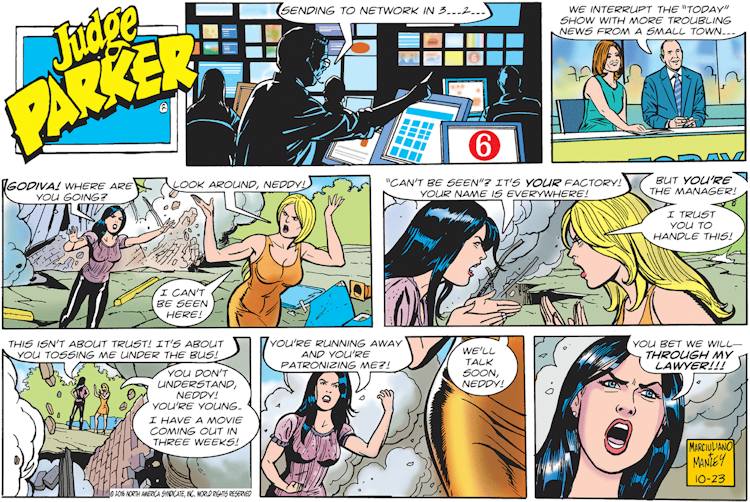 Godiva Danube (neé Brunhilde Akerman) burst upon our collective consciousness in April 2009 as movie star, equestrienne, wife of country-music legend Rocky Sledge, supporter of Our Brave Troops, and adoptive mother of six refugee children (all now playing nicely with the Thorp kids down at the bottom of the memory hole; don't forget to toss in some Legos and string cheese as you pass by).
Today, with the Godiva-affiliate wing of the Spencer-Driver empire in literal collapse behind her, she wisely if callously cuts her losses, protects her #Brand, and Gets the Hell out of Dodge. Given the new author's interest in paring down the cast of characters, this may be the last we'll see of her. Farewell, Godiva, and thanks for all the cheesecake!
[Caution: video plays oom-pah music. Sincere apologies to Tom Jones.]

Mark Trail, 10/23/16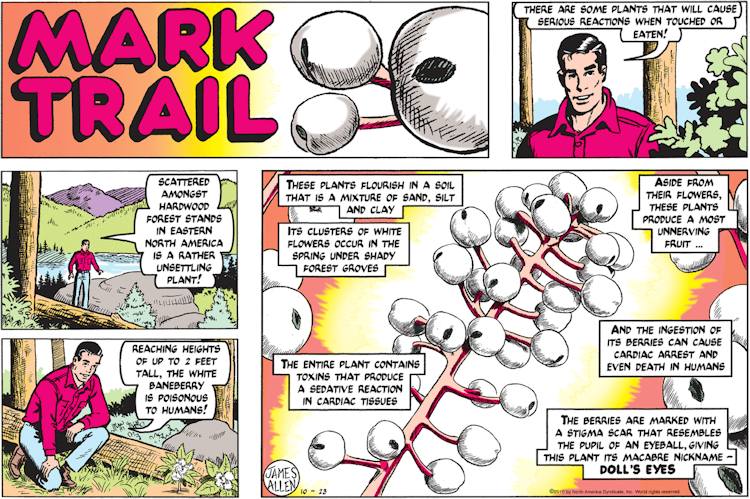 Heart-stopping killer eyeball plants – for those special times when parasitic flatworms aren't creepy enough!
Mary Worth, (panels) 10/23/16

Through the dark times of addiction and even prison, you never, ever question your Worth — not if you know what's good for you, buddy.
---
Well, my time here is up.
SO UNFAIR.
Josh will be back tomorrow — thanks for a lovely week!
–Uncle Lumpy