Post Content
Full details here.

It's the last day of the Comics Curmudgeon Fall Fundraiser! Click the banner to contribute to the Comics Curmudgeon by PayPal, here to send a donation by mail or here to sponsor Josh's work through Patreon. Thank you, generous readers!
---
Barney Google and Snuffy Smith, 10/21/16

"And our outhouse has no roof!"
Sally Forth, 10/21/16
Sally:
[Legitimate criticism]
Ted:
"I'm sorry."
Sally:
"Now you go."
Ted:
[Legitimate criticism]
Sally:
"You sneaky, conniving bastard!"
Ted:
"THIS WAS YOUR IDEA."
Dennis the Menace, 10/21/16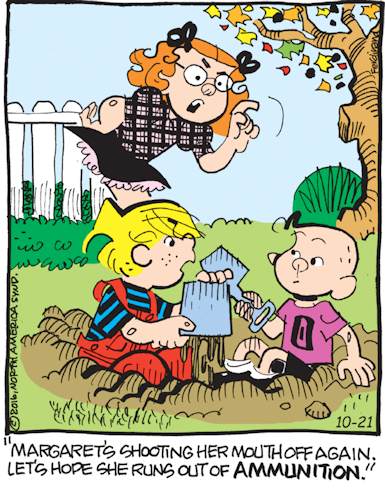 Joey is right to be concerned … he's the one in the bullseye T-shirt.
— Uncle Lumpy