Post Content
Six Chix, 10/26/16

Happy early Halloween from Six Chix, everybody! I note that these pumpkin-people's heads and arms are the same bright orange color, which I take to indicate that they are similar in substance and consistency. What prospect do you find spoooookier?
That their whole bodies are tough and durable, like pumpkin's shell, which means that every time they move their outer layer grinds painfully and loudly against itself
That their whole bodies are soft and pliant, like ordinary flesh, even their huge, bulbous heads
Your answer may hinge on how you believe the pumpkin-beings' faces manifest. Do they merely appear when one of them finally determines the emotion they want to express? Or must they be carved, with a knife?
Funky Winkerbean, 10/26/16

Ha ha, angry rage maniac Bull Bushka's brain is so battered that his angry rage mania is now an integral part of his personality, says his wife, who has to share a house with him and his irrational violent outbursts all the time now that he's retired! This isn't setting up teeth-grindingly awful and tragic storyline for the future, at all!
Pluggers, 10/26/16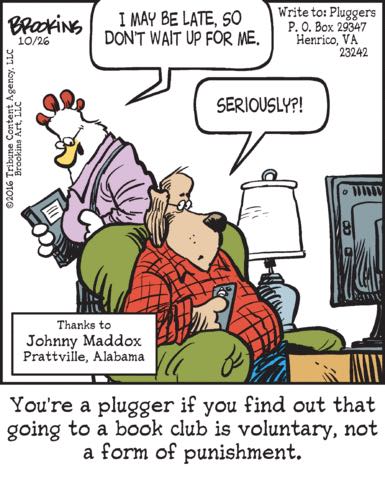 You're a plugger if you don't just hate reading but try to shame your spouse for liking it.