Post Content
Mary Worth, 11/25/16

Wow, too bad Mary Worth chose the Friday after Thanksgiving, traditionally a day of extremely low readership, for this extremely sexy strip where we finally have confirmed that Zak is standard-college-student age and also on the prowl for fortysomething babes. Look at that line he just laid down here! Like, just moments ago he had to have it explained to him what an iris was and already he's busting out "oh, late blooming flowers are definitely the ones I want to fuck the most." I'm kidding, of course, what he actually said was "Late blooming flowers are just as beautiful… if not more so!", which, just as beautiful as what, Zak? You might think your sentence is more "respectful" than mine, but mine at least respects the rules of English syntax.
Six Chix, 11/25/16

Yeah, man, I don't even know what to say about this one. Like, is this supposed to be the thing from old Warner Brothers cartoons where a very hungry person hallucinates that his friend's head has become a rotisserie chicken or whatever? So the cow on the left is very hungry? And also a cannibal? I guess?
Dennis the Menace, 11/25/16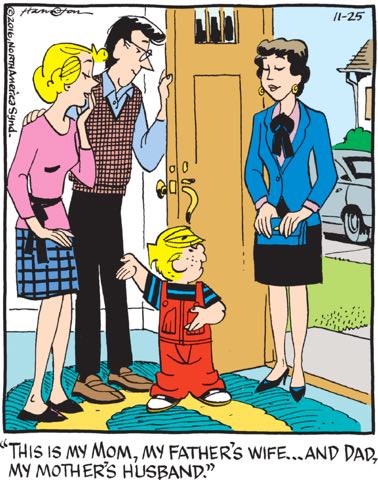 By emphasizing his parents' marital relationship to one another, Dennis is trying to be a menace by derailing the three-way they have planned with this woman. But the joke's on him! She's a highly sought after call girl who knows exactly what she's getting into. The prim-and-proper outfit, along with a certain amount of feigned reluctance, is just part of the specific fantasy scenario the Mitchells submitted via her web site.
Family Circus, 11/25/16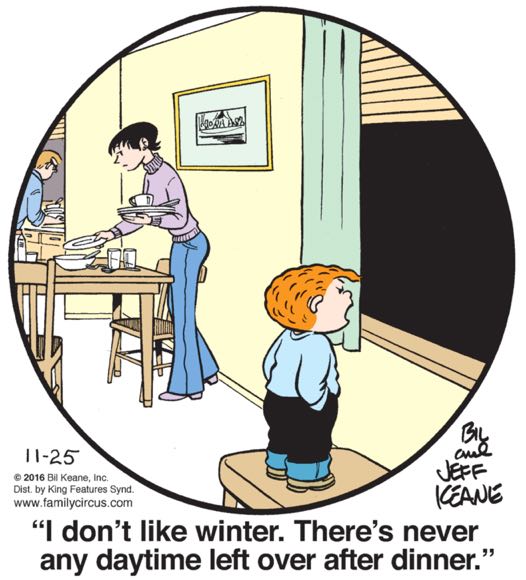 "There's never any daytime left over after dinner! Instead the flow of time abruptly stops and the universe outside is replaced by an infinite, featureless blackness. It stinks!"