Post Content
Dennis the Menace and Family Circus, 12/7/16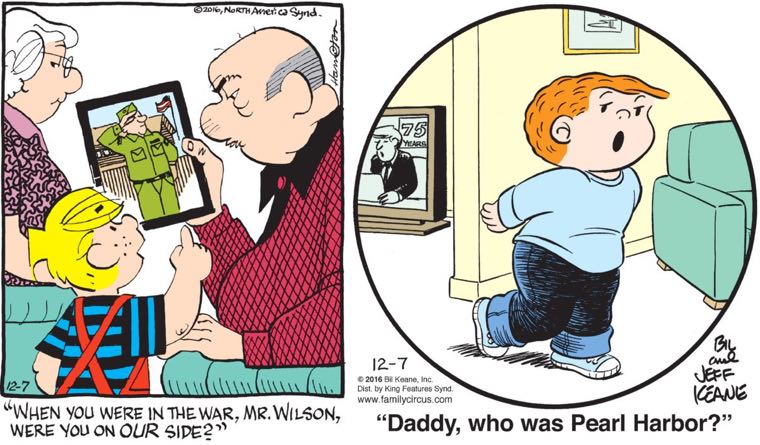 Happy Pearl Harbor Day, everybody, a day that will live in infamy, a day that went mostly ignored in the comics today, even though many of the old-man characters in various strips are anachronistically supposed to be World War II vets, something even Crankshaft is too young for, honestly. Anyway, these two panels taken together pose the question: what's really menacing in this life? Is it Dennis's wild and aggressive accusation that Mr. Wilson, a decorated war hero, was secretly in league with Tojo and the Greater East Asian Co-Prosperity Sphere? Or is something more banal and yet ultimately more terrifying: that even the most dramatic and momentous events in human history can fade, in the course of just a single lifetime, into a misty half-memory that someone like Jeffy will only vaguely have a grasp on?
Dick Tracy, 12/7/16

The fact that the main villain in this Dick Tracy storyline's name was "Selfy" and that he was obsessed with taking selfies was one of a jumble of ideas that were entertaining even when they didn't quite gel with each other. It mostly got dropped over time, but it's fun to bring it back in the end here, as Selfy attempts to take a murder-selfie that turns out to not be quite murder-y enough.
The Phantom, 12/7/16

Fool! The Phantom doesn't pay high prices for cable or satellite service! He's already got Internet access in the Skull Cave, and gets his TV via over-the-top streaming services of varying legality! He's not held down by your rules! He's … the Ghost-Who-Cuts-The-Cord!