Post Content
Dennis the Menace, 2/25/17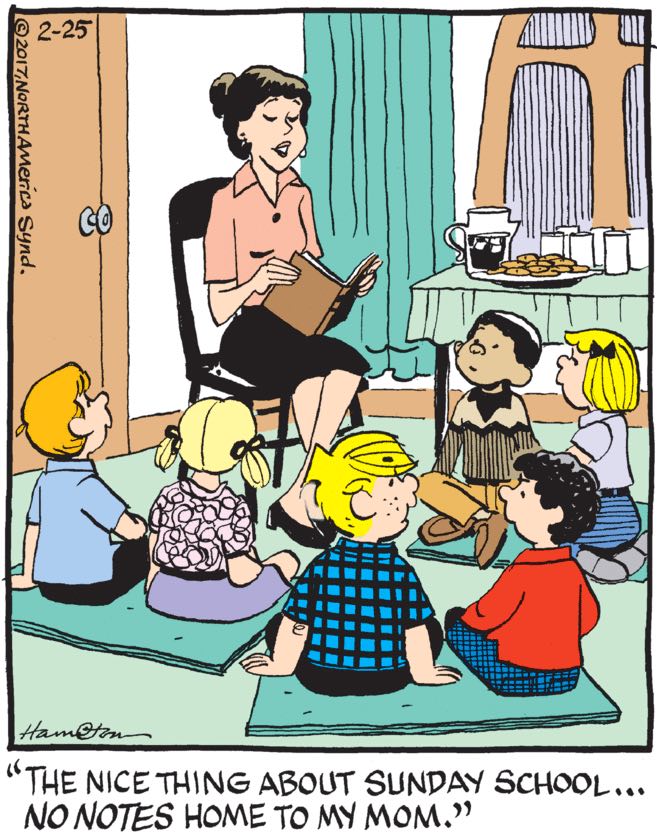 My one and only encounter with childhood religious instruction that I can remember came when I was maybe in the six to eight years old range; we were visiting my mom's parents in Ohio, and I sat in a Sunday school class at their church. The teacher acted out the story of Jonah and the whale by putting a Playmobil man into a giant plastic toy shark, and as a know-it-all child this bothered me a lot, because I was very smug in the knowledge that sharks were fish and whale were mammals. But I didn't say anything, which is just as well, since the bible actually uses the word "fish" (and the ancient Hebrews really didn't make the distinction anyway); and besides, I wasn't the type of kid to make a fuss in front of strangers, or to challenge authority. I guess you could say I wasn't … a menace?
Anyway, while I suspect that modern-day Sunday Schools (especially those run by namby-pamby Episcopalians) don't follow the injunction from Proverbs that "he that spareth his rod hateth his son," I also have a hard time imagining that they just turn the other cheek when it comes to classroom disruptions that would get you a stern talking-to and note sent home at a Godless public school. Thus, the only way to interpret this panel that makes sense is that, here in Sunday School, Dennis doesn't want to act out or cause a fuss, which is probably the least menacing attitude he could possibly take.
Mary Worth, 2/25/17

Speaking of Jesus, what's Tommy been up to while Iris sows her wild oats all over campus? Thinking about big bottles of delicious pills, mostly! I dearly hope that when a tear-soaked Iris returns to her apartment from Mary's advice session, we see her from Tommy's perspective, and it's like when a hungry wolf in an old cartoon sees someone's head turn into a rotisserie chicken, except Iris's head looks like a bottle of Vicodin, or maybe just one enormous Vicodin tablet.
Mark Trail, 2/25/17

OH MY GOD
MARK TRAIL IS A VAMPIRE
OR MAYBE DOC OR CHERRY
OR RUSTY
YES, RUSTY IS THE ONE MOST LIKELY TO BE AN UNDEAD BLOOD-SUCKING GHOUL
STILL, EITHER WAY: AHHHHHHHHHHHHHH