Post Content
Mary Worth and Judge Parker, 2/15/17


It's interesting to me that the stereotypical, cartoonish drawing of tears has them coming out of the outer corners of your eyes, when human anatomy ensures that they're much more likely to come out by our noses in real life. That's how we know that Iris, with her messy, confusing motivations and emotions, is fully, gloriously human, and "Sophie" actually died in that car wreck and had her brain implanted into an android duplicate by her mysterious kidnapper. Her mysterious kidnapper who … she is maybe talking about today, for the first time? Her programming is malfunctioning!
Funky Winkerbean, 2/15/17

Haha, so, yesterday I joked about how the DMV was going to murder Funky, but today it's like … it's going to happen, and he wants them to do it. He's egging them on. Last week he made his peace with death and now he wants it over with. This is suicide by cop, except it's suicide by low-level bureaucrat and awful, awful wordplay.
Family Circus, 2/15/17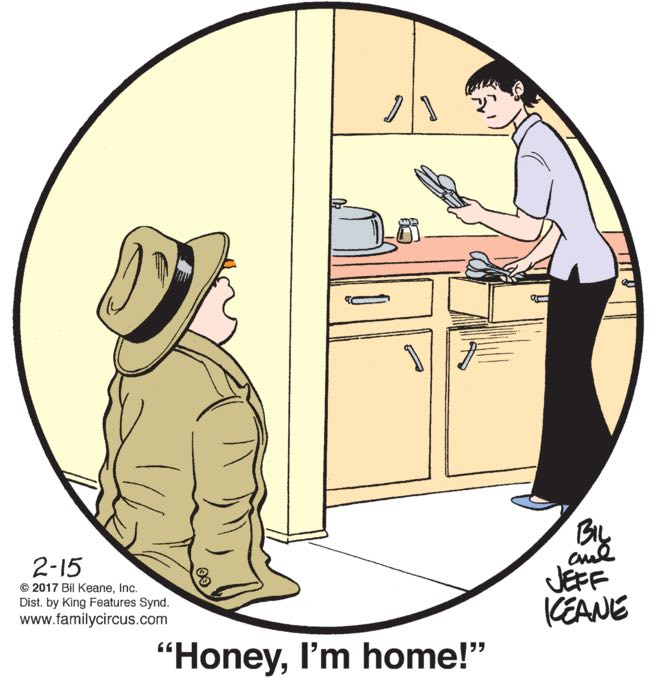 OH NO JEFFY KILLED A BUSINESS MAN AND RITUALLY STRIPPED HIM OF HIS SACRED GARMENTS TO GAIN HIS TOTEMIC POWER