Post Content
Mary Worth, 4/11/17

It's a good thing that Mary and Toby aren't the kind of friends and travel companions who feel like they have to do everything together, because they obviously have very different interests. Mary, for instance, enjoys looking out over the waves thinking quietly to herself, "I love the sea! You know, in the abstract. I'm not going to swim in it or anything. It's full of monsters!" Meanwhile, Toby is in the ship's gym, running in place with a bunch of other workout nuts, shouting "It's fun to stay at ♫ the Y-M-C-A! ♪" at the top of her lungs. They're not playing the song on the gym soundsystem or anything and she's not, it goes without saying, staying at the YMCA. She just likes yelling things.
Mark Trail, 4/11/17

Meanwhile, over in Mark Trail, things are taking a much grittier and more realistic turn than in the high-seas fantasy world of Mary Worth. "It has proven to be a good career for me to provide for my family!" says Mark, unaware that, even as he tussles with this illiterate gunman, back in New York analysts at the private equity firm that recently took over Woods and Wildlife Magazine's near-bankrupt parent company are going over the books and discovering some truly hair-raising numbers. "So, this guy is on the payroll as a full-time employee with benefits, but he files maybe three, four stories a year? And he's tied to the company's skyrocketing insurance premiums? Well, first thing we do is shift him to contractor status. And we won't need any more of these 12,000-word essays about ferrets or whatever; he's welcome to send us some clickbait 'You won't BELIEVE which National Monuments have the most celebrity nude sunbathers' slideshows for $250 a pop. OK, with that taken care of, let's look at our spending on office space — I think there's a lot of savings we can find there, too."
Family Circus, 4/11/17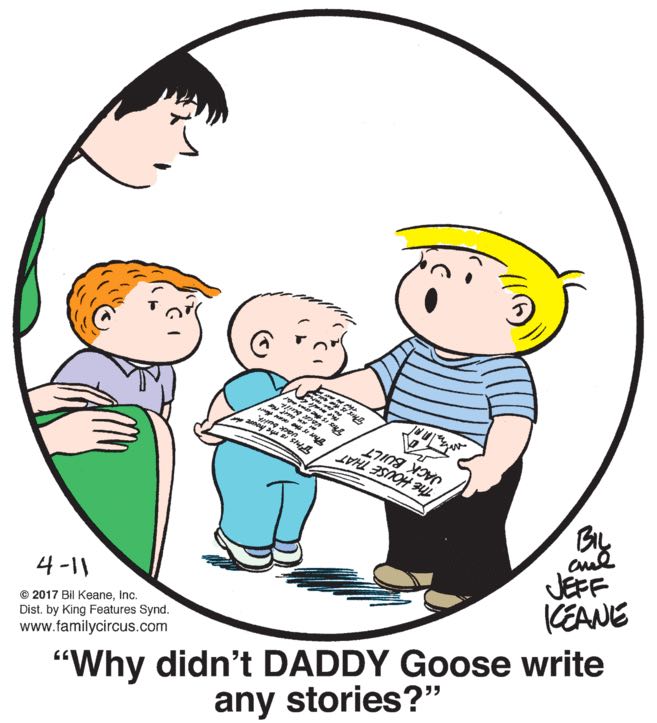 Oh, man, Billy is definitely just one step away from "and why isn't there a WHITE history month????" right now.