Post Content
Click the banner to contribute to the Comics Curmudgeon. Details here.

Hey, it's the Comics Curmudgeon Spring 2017 fundraiser! Please show your support for this fine entertainment with a generous donation!

Crankshaft, 5/2/17

Sure, Ed — those moms are chasing your empty bus.
Just look at the lovingly detailed bricks and rain, Ed's meticulously randomized blackheads (4‑2‑3 — thank you, click-to-zoom feature!), and that enormous block of overwrought dialogue. Say what you will, a lot of time goes into making this strip. Leaving no time to read it, I guess?
I was vaguely unsettled by Monday's Crankshaft even before Tuesday's contradicted it, and this morning I realized why — Ed is smiling. Normally his face is a mask of aggrieved belligerence even when he's doing things he enjoys, like gardening, barbecuing, or watching his beloved Cleveland sportsball teams. So if you ever need to get on Ed Crankshaft's good side, God help you, start him bragging about what a thoroughly accomplished asshole he is.
Curtis, 5/2/17

So, tell us — did the guy rebuild his broken life or not? Sounds like he made a pretty good start! Don't try to sell the moral 'til you've finished the fable, Aesop.
Pluggers, 5/2/17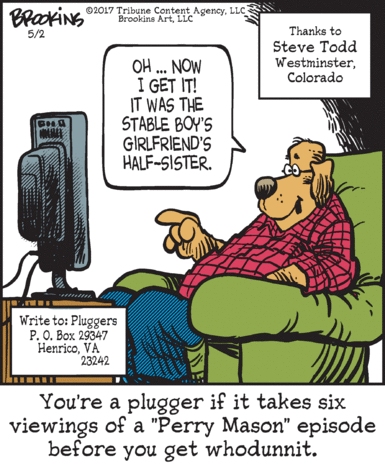 Hey Andy, if social and family relationships baffle you, try making sense of Pluggers.
Spider-Man, 5/2/17

Before the doorman got in the way, Peter was driving straight into the lobby to save himself a couple steps. And check out the terror-font when Aunt May shows up — he knows she'll get him up at the crack of dawn all week to make her damn chamomile tea and serve it up on the lovely balcony. Between the galactic defenders and widowed aunts, how's a guy supposed to catch a nap?
---
OK, so it seems my superpower is finding logical errors in Crankshaft dialogue — still more useful than anything we've seen from Spider-Man!
–Uncle Lumpy