Post Content
Six Chix, 9/30/17

I find crows a little uncanny, what with their keen intelligence and ability to recognize and remember human faces. So I've always been a little averse to learning too much about their ways, lest I freak myself out even more about them, but today's Six Chix finally led me to fatefully Google "what do crows eat?" Because … what is that the crow is scarfing/ripping/tearing/shredding/mutilating in panel two there? Remember, the coloring is done by the syndicate — it doesn't necessarily represent the artist's intent. It sort of looks like a pile of leaves but then it also kind of looks like the gutted body of another bird, right? Those are little bird feed sticking up from the end of it on our right? As the nice bird-feeding lady looks on in horror? Anyway, turns out "crows eat frogs, lizards, insects and anything else they can catch and swallow. They're also known to eat carrion." After that, I decided I was ready to give in to full-on bird horror, so I Googled "will crows eat other crows," but I only got as far as "Crows occasionally murder each other for reasons that mystify scientists" before I decided, you know what, I'm not actually emotionally prepared for this.
Dennis the Menace, 9/30/17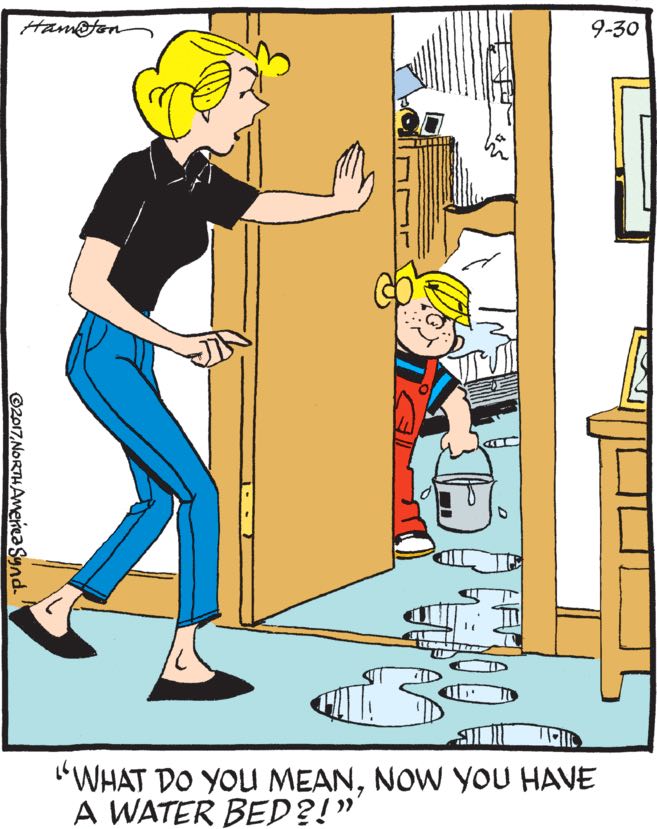 We joke a lot on this blog about the true meaning of menace when it comes to this strip, but really: is there anything creepier than someone — especially a child — doing something destructive and manifestly not in his own best interest, for impenetrable reasons of his own, with a smile on his face? At this point I'm just hoping that bucket is full of water that came out of the faucet, if you catch my drift.
Pluggers, 9/30/17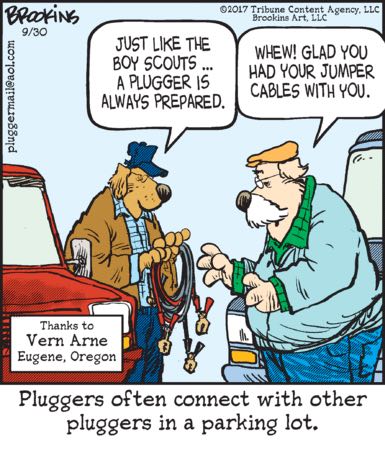 I feel like this panel is cheating by giving us a plugger definition not just in the caption but also in a word balloon? Anyway, you have to respect the fact that, no matter how many folksy aphorisms you jam into the text here, this panel still looks like a couple guys cruising for erotic e-stim play partners in the parking lot of the Dillard's out on Route 78 that closed down in 2011.