Post Content
Funky Winkerbean, 10/16/17

Ah, it's Monday, and what new gloom is settling on the Funkyverse? Well, somebody in a generic office building has been working to track down Darrin Fairgood, somebody with a flat-top haircut and dour demeanor that implies law enforcement of some sort. Or maybe this is tied into the plotline about Darrin's stalker-y bio-dad that never seemed to come to anything? Anyway, I love that these guys are acting like they just cracked a major cold case by looking up a guy's IMDB page, as I'm sure it presages hilarity ahead!
Mary Worth, 10/16/17

The problem: Wilbur so hates and fears his own body that he's unable to even dance properly. The solution: radical exposure therapy, implemented by taking him to the beach, putting him in a speedo, and showing him that nothing bad will happen as he and his beloved frolic together in the ocean for all the world to see. And it's working! Look at the grin! Feel that joy! His glasses are about to get knocked off his face by the next big wave, but even that won't be able to kill his mood!
Meanwhile, back in Santa Royale, Mary is sitting in the dark, to make sure she doesn't accidentally catch a glimpse of her foul, sinful flesh.
Marvin, 10/16/17

Hey, just a reminder that Marvin's house is wholly permeated by the smell of feces, to the extent that the family dog feels morally superior because he goes out in the yard to take a dump!
Dennis the Menace, 10/16/17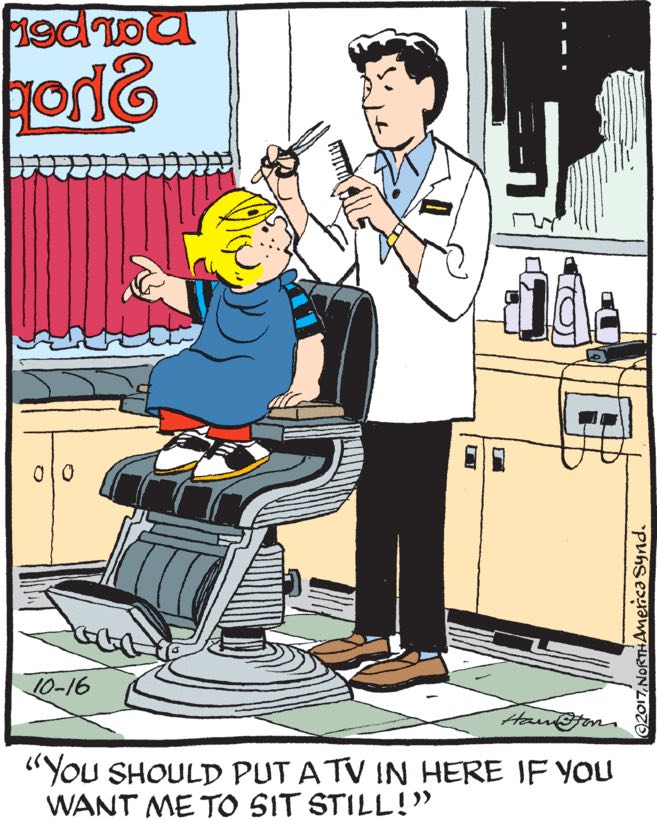 A good way to make us all feel really menaced is to remind us that we're three or so generations into a long-running experiment to see what happens in a society where most people start getting antsy any time they're not looking at a screen of some sort, and that experiment is not going well.