Post Content
Funky Winkerbean, 10/7/16

Haha, wait, so Frankie, Darrin's terrible bio-dad who raped Lisa when they were teens and returned to Westview to peddle some reality show only to be driven away by everyone's righteous indignation, now works for DMZ, a gossip website so non-notorious that its employees have to keep reminding each other what it is? And now he's going to ruin Cindy and Mason's relationship by posting out-of-context photos of Mason and his comely young co-star? Sure, why not! There are only a limited number of truly bad people in the Funkyverse, so they have to work hard at doing all the bad things needed to keep everyone unhappy.
Spider-Man, 10/7/16

"Here he is. Tied up and immobile, right in front of you. I didn't move him there in the middle of that sentence or anything. I wasn't even standing in front of him. It's … pretty weird you didn't notice him before I pointed him out to you?"
Blondie, 10/7/16

The only thing Dagwood likes more than micromanaging his daughter's sexuality is getting a sweet deal on an awesome high-end car.
Dennis the Menace, 10/7/16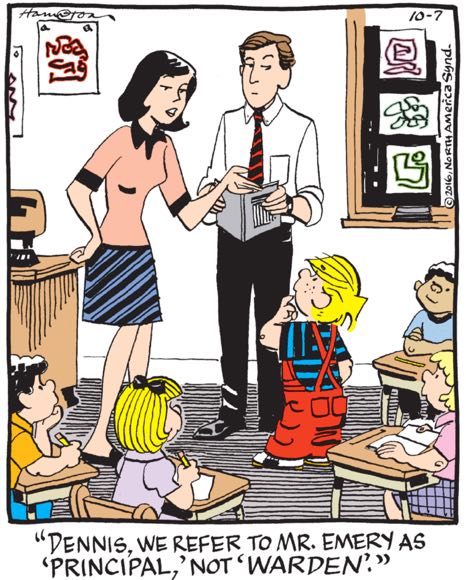 Dennis recognizes that school's real purpose is not to educate citizens, but to serve as a model of the regulated social order in which they'll be embedded their whole lives. He's truly menacing … to the established power structure!
Lockhorns, 10/7/16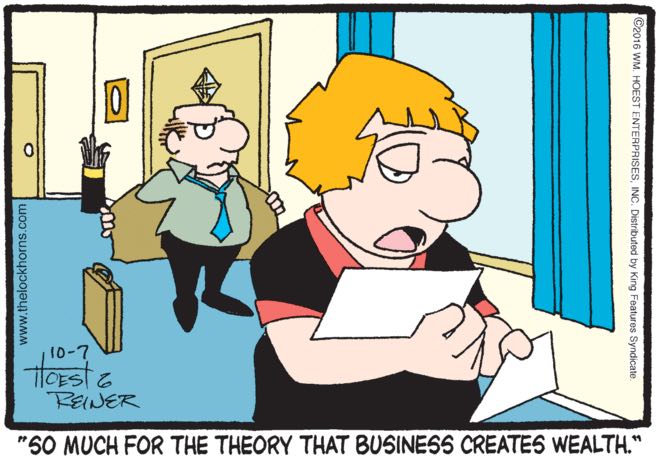 Suddenly aware of capitalism's enervating effects on wage slaves like her husband, Loretta will now take her place as the sarcastic, heavy-lidded Marianne of the new revolution.
Rex Morgan, M.D., 10/7/16

♬ It's a montage ♬ a document-signing montage ♬ you gotta love a montage ♬ this process would've taken six to eight weeks worth of comics if we didn't do a montage ♬