Post Content
Spider-Man, 12/2/17

Wait, so Peter Parker knows Dr. Connors is The Lizard, but Dr. Connors doesn't know that Peter Parker is Spider-Man? That's what I'm assuming from Peter coyly saying he's developed different interests since his days as Dr. Connors' lab flunky while thought-ballooning about his own super-heroics. If Connors is truly in the dark, then he's just seeing Peter smirking and not following up on his obvious hint, and probably is thinking "gee, what a dipshit," just like I do three out of every four times I read this comic.
Anyway, this seems like an unfair power imbalance! Whenever anyone's embarking on a dangerous journey of self-experimentation, he should have all the facts about his lab assistant available to him! FOR INSTANCE, if he knew that he was being assisted not just by some dork who strings for a New York tabloid but by a man with enhanced strength and combat abilities who could defeat and contain, say, a giant, angry, rampaging reptile, he might err a little more on the side of "OK maybe this new formula will turn me into a lizard like the last one did, but there's only like a one in three chance, so let's give it a shot."
Rex Morgan, M.D., 12/2/17

Right, so, as many predicted, it turns out that bad-ass art forger guy is Rene, Sarah's erstwhile art teacher. As the dragnet closes in around him, what has he got to say for himself?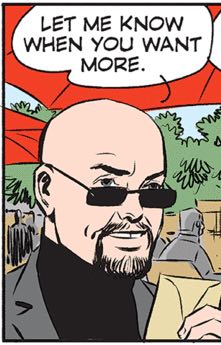 YOUR CONCEPT OF ORIGINALITY IS HOPELESSLY OUTDATED, MAN
THIS IS AN "EVERYTHING IS A REMIX" CULTURE
I'M TRANSFORMING YOUR ORIGINAL CONTENT WITH IRONY AND RECONTEXTUALIZATION IN WAYS YOUR FEEBLE MIND COULDN'T EVEN UNDERSTAND
AND I'M MAKING MAD BANK DOING IT TOO
HELPING THAT CHICK TORTURE HER NERD EX-HUSBAND IN THE PROCESS WAS JUST A BONUS
Ha ha! That Belluso kid, he's plays by his own rules!
Pluggers, 12/2/17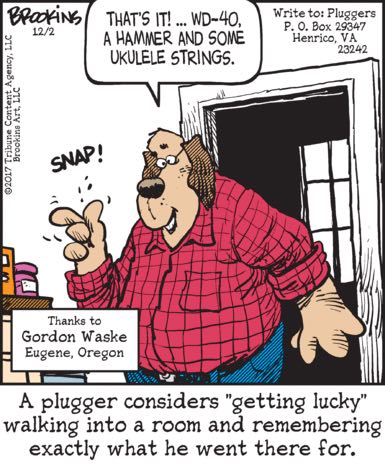 Pluggers used to be into sex, but now the best they can expect from their failing physical form is the ability to maintain a stable train of thought for more than a few minutes at a time.