Post Content
Gil Thorp, 1/15/18

It's time for a new storyline in Gil Thorp, the strip about high school sports that isn't afraid to get topical, the strip that was doing storylines about DREAMers way back in 2008, the strip that has the guts to say that head injuries are bad but football is great. Looks like this spring we're going to be spending time with a couple refugees from Hurricane Maria, one of whom has a real bad attitude about her homeland's devastation, unlike her brother who's just a real chill guy. Will all their problems be solved with high school sports? Probably!
Funky Winkerbean, 1/15/18

God, imagine a future dystopia where humanity has ceded its autonomy to a soulless, implacable "machine" — a machine that, for instance, can tell when you're using the photocopier at work to xerox copies of your new terrible graphic novel about your dead wife so you can personally hand them to your friends who keep saying "the attachment didn't come through on that email you sent." Well, you don't have to imagine it, because it's here. Welcome to hell, where death by cancer is a blessed relief.
Family Circus, 1/15/18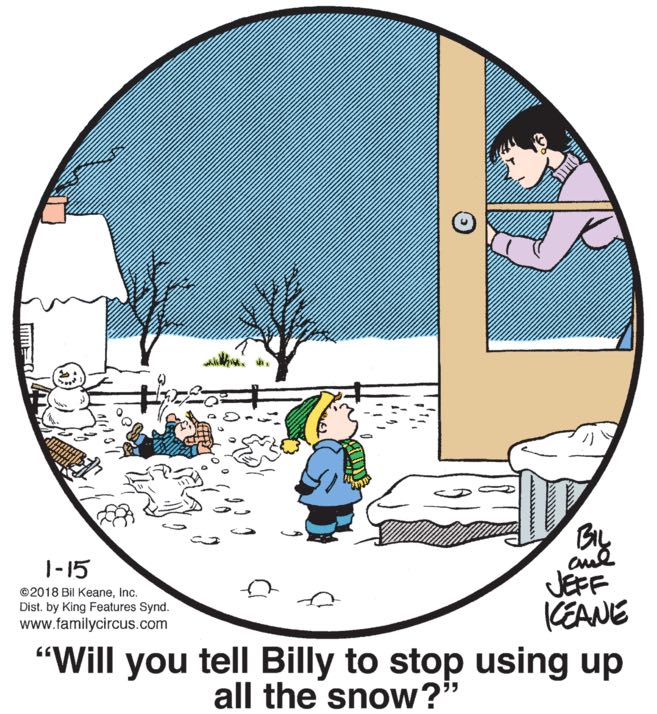 I know Billy is supposed to be making snow angels in the background, but I'd really like to believe he's just flailing around out there, rubbing his gross little body all over the lawn, to claim the snow. "It's my snow, asshole!" he gleefully yells at Jeffy. "You can't have it!"