Post Content
Dick Tracy, 2/12/18

Hey, so, remember last year when the xenophobic Congresswoman Bellowthon tried to pass a law restricting the rights of Lunarians and Lunarian-Americans, but then she got murdered and the legislation never went anywhere? You namby-pamby libs were probably pretty pleased about that, but now that the leader of this alien species is on Earth, smoking fine cigars with a prominent military-industrial complex CEO and casually mentioning that his people are abandoning "Moon Valley" and journeying to our world, planting secret colonies everywhere, you wish Congress had fully funded the Space Wall!
Marvin, 2/12/18

Maybe I spend too much time dwelling on the romance plots in Marvin. I mean, technically, they can be framed as stories about "the sex lives of babies," but in reality they're all pretty chaste, and the cartoon convention where infants and animals are given adult-level cognitive capabilities makes everything more or less on the level. Here's the thing, though: half the time the punchline to these strips are about how Marvin, who has a girlfriend, smells like feces all the time? Because he shits his pants? And enjoys it? And it makes you realize, "Oh, this guy who has a girlfriend, he's literally in infant. That's bad!" Anyway, here's another strip about diaper-wearing babies who poop themselves but also date each other, I guess!
Pluggers, 2/12/18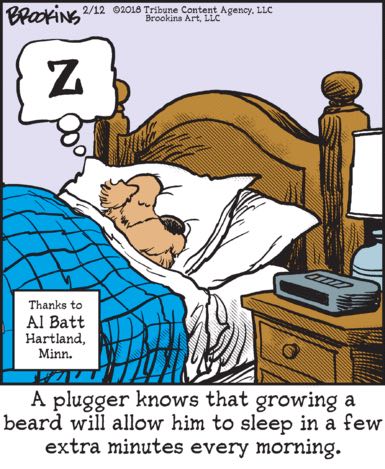 Pluggers know that a good way to sleep as long as you want in the morning is to unplug your clock so it doesn't even tell you what time it is. And then when you do wake up, if you have a beard you can paw at it and go "Oh no! How long have I been asleep?" like you're Rip Van Winkle. It's a classic bit!
Mary Worth, 2/12/18

WHOA WHOA WHOA TED IS MOVING IN FOR A HUG AND MARY SEEMS PRETTY PLEASED ABOUT IT, THIS IS A SHOCKING DEVELOPMENT AND MAYBE ALL THIS TIME THEY HAVEN'T BEEN TALKING ABOUT "MARKETING" AT ALL???? STAY TUNED FOR FURTHER ROMANCE UPDATES!!!