Post Content
Mary Worth, 3/19/18

Hmm, how does Mary Worth fare on the suddenly very relevant Soap Opera Comic Museum Verisimilitude Test? Well, significantly worse than The Phantom, which meticulously reconstructed a room at the Met for its protagonist to ruminate sourly in. It turns out that Botticelli's Birth of Venus is in the Uffizi just to the left of the same artist's Pallas and the Centaur, and not, as today's Mary Worth would have you believe, next to Some Trees Or Whatever.
Spider-Man, 3/19/18

Oh, man, remember the tense drama that arose in this strip when, for for reasons that were explained in only the sketchiest of ways, Bruce Banner could no longer turn into the Hulk? Well, good news: now he can turn into the Hulk again, with no attempt to explain it at all.
Crankshaft, 3/19/18

Don't get your hopes up, people. Last year's Funky Winkerbean strip where we finally had it confirmed that Crankshaft's moldering husk is still technically alive in the ten-years-ahead section of the Funkyverse's fractured chronology wasn't just weird and distasteful; it also robbed us of even fleeting moments of anticipation that Crankshaft might actually die in his own title strip.
Dennis the Menace, 3/19/18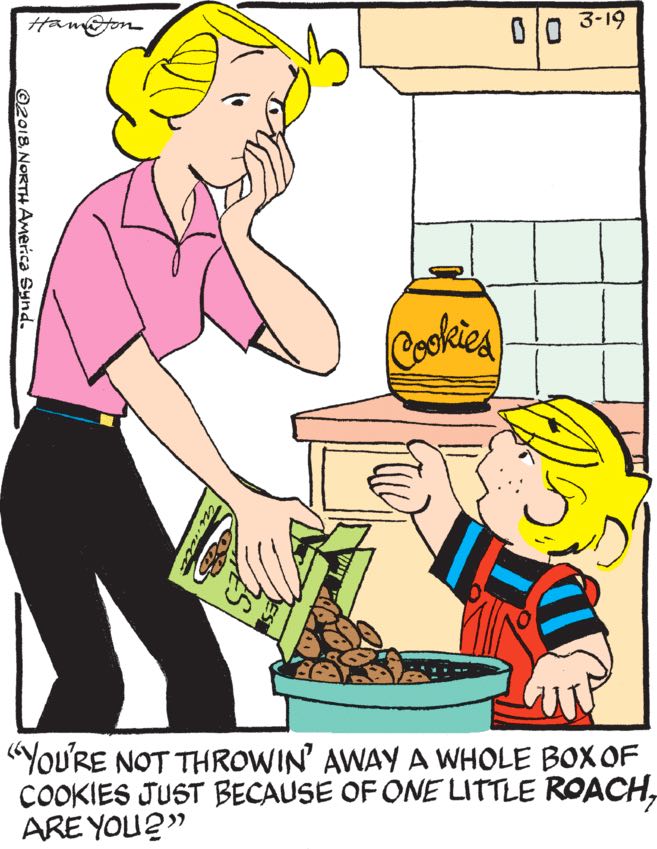 The vision of a child stuffing cookie after cookie into his mouth from a trash can infested with chittering vermin as he mutters "Still clean enough, still clean enough for me," is … uh, menacing, yes, let's say that.