Post Content
Spider-Man, 8/1/18

Wow, it used to be that all you had to do to be the sinister leader of criminal syndicate with a vice grip on Chinatown was be a vaguely racist stereotype and have an army of sexy swordsladies at your beck and call. But now it turns out that you also have to keep up on all the latest D-list celebrity gossip just so that you don't accidentally chop off the head of the chump husband of some Broadway actress. The final panel is a sad and totally accurate assessment of the relative importance of journalists and people whose spouses occasionally appear in People.
Pluggers, 8/1/18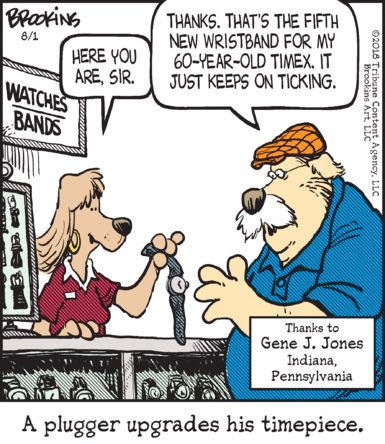 OK, see, Pluggers, we have a deal where you get to do your thing so long as the event you depict in your panel puts a little bit of a twist on the caption, and the key to this is that the caption has to be a commonly used phrase or concept for non-pluggers, and you show us the plugger spin on it. But today we're being asked to believe that "upgrading your timepiece" is a thing? A thing anyone says? Maybe pluggers believe that this is a thing that nerds who wear smartwatches say? Hey, Pluggers: the caption to this one could've just been "A plugger smartwatch," BOOM.
Barney Google and Snuffy Smith, 8/1/18

Ha ha, it's funny because Hootin' Holler's only medical facility is infested with vermin!