Post Content
Six Chix, 10/7/18
I get what this comic is going for here, I really do, but part of my job ("job") as the proprietor and namesake of the Comics Curmudgeon is to spend more time than usual thinking about the premises of comic strips, and my friends, when you do that with this one it starts to get dark. Like, sure, it seems that your dog is sitting in your living room, watching squirrels scamper around outside for entertainment, and maybe at some level that's true. But when you, a human, watch acrobats or lion tamers, you do it out of appreciation of their skills, and maybe get a thrill from imagining yourself in their place. A dog's emotional arc in that scenario is very different, and when you factor that into the change of setting here — not one dog but a whole uncountable pack, not sitting in some domesticated space with a glass between them and the squirrels but out on the side of a country road in the middle of the night — well, you can't help but wonder when the moment will come when, by some unspoken agreement, the audience descends on the performers in a howling frenzy and tears them to bits.
Dennis the Menace, 10/07/18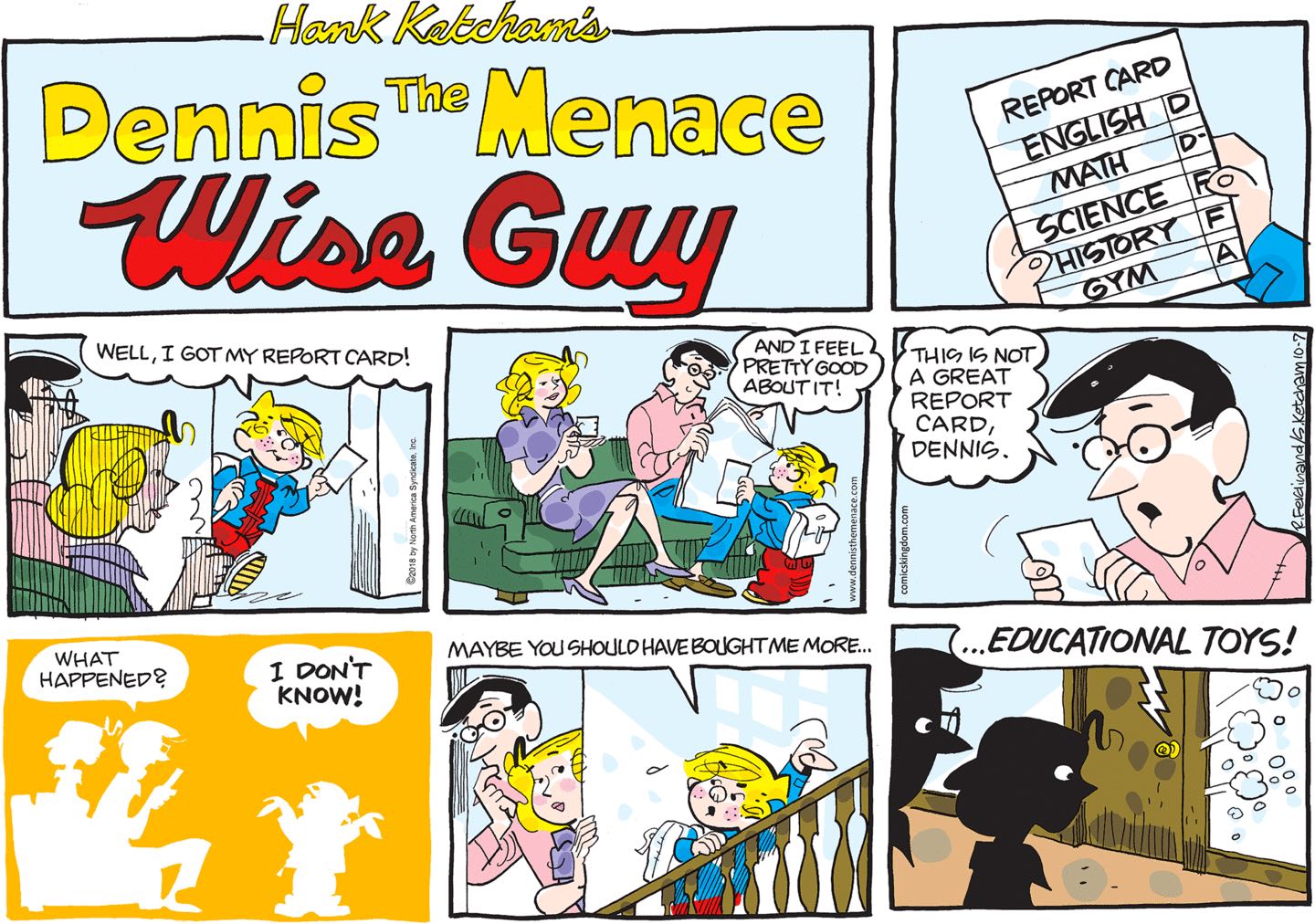 It's pretty much absolutely necessary for the core Dennis the Menace shtick that he be allowed to wander around through the neighborhood unsupervised, as I'm given to understand that children of earlier generations were, so it can be difficult to remember that he is, canonically, five years old, and so probably in kindergarden. In the bygone days when five-year-olds were allow to roam freely and hassle the neighbors, were they also taught science and history in kindergarden? Anyway, another reason we often forget Dennis's true age is because he's so darn precocious, and you have to admit that telling your parents that your failure really represents their own shortcomings is some advanced-level menacing.
Panel from Slylock Fox, 10/07/18

Look at that pelican bait shop attendent, grinning like a big idiot! He doesn't even realize that the only reason he isn't being hauled away to an internment camp without trial right now is because Slylock happened to remember some nature facts about tides or whatever.