Post Content
Dick Tracy, 2/18/19

In case for some reason you're interested in how the various strands of the current Dick Tracy plot fit together: Splitface, who used to be Haf and Haf, also used to be married to Zelda the high diver, who is also Vitamin Flintheart's goddaughter, and was I think going to go on a date with the drunkard playing Dick in the play Vitamin is in, but then she got kidnapped by Splitface, who used to be Haf and Haf and also her husband, despite the fact that she had been assigned a police protection detail because Splitface, who used to be Haf and Haf, had sworn vengeance on her for some reason I forget now, possibly because he's insane, I dunno, it's Dick Tracy, it's not super nuanced. Anyway, it sure is a lousy break for Zelda, isn't it? Getting kidnapped by her deranged ex-husband, who presumably wants to murder her or worse? Just a piece of darn rotten luck that certainly the agency that knew about the threat to her and promised to protect her isn't responsible for in any way.
Family Circus, 2/18/19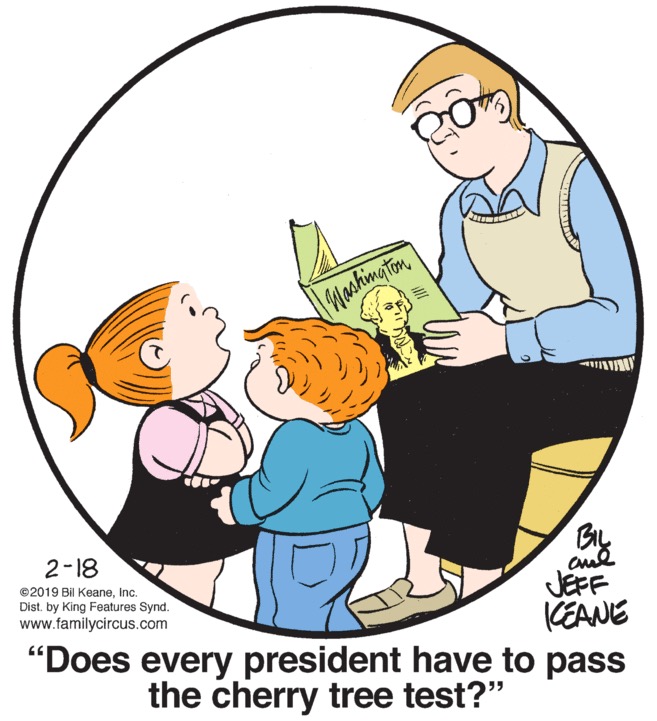 Oh, snap, is the Family Circus going to get political? It's a good thing Big Daddy Keane is wearing that kevlar vest, as this single-panel comic in which kids say the darndest things was the last bit of shared pop culture holding our frayed national fabric together, and now that's "gone partisan" the violent civil war is about to erupt.
Funky Winkerbean, 2/18/19

Ha ha, it's funny because Linda has to choose between retiring comfortably and spending time with her addled husband as he rapidly declines! Like, literally, that's the joke here in today's knee-slapping Funky Winkerbean, a newspaper comic they print where children can see it!