Post Content
Funky Winkerbean, 7/20/19

I have to admit, this absolutely bonkers "killer chimp" reveal has at least gotten me seriously emotionally invested in Funky Winkerbean, event though my investment is basically in seeing how much more bonkers it's going to get. Today Cindy posits that Zanzibar was "jealous," which … hasn't really been explored in the strip, as far I've noticed? And also Cliff let Butter leave town with a talking, thinking, murderous ape??? How did he know Zanzibar wasn't going to kill again? Who would stop him? Certainly not Butter Brinkel! How many corpses did Butter and Zanzibar leave in their wake as they fled from state to state across the country?
The whole vibe this episode is a delightful (for certain admittedly very limited definitions of "delightful") throwback not to the Funkyverse's actual zany past but to the moment when the strip was shifting gears from its zany past to its ultra-depressing present. "There's a chimp who can talk and also he murdered an innocent woman and ruined countless lives" definitely fits in with "There's a zany dude who goes by 'Plantman' who dresses up as a plant and is also a murderous maniac."
Rex Morgan, M.D., 7/20/19

I have to admit it's kind of charming how these two are talking frankly and cheerfully about their jobs as scam artist: giving professional praise, coming up with ideas for new revenue streams, brainstorming the details of possible strategies, and so on. I'm also intrigued that we have yet to see the sinister puppetmaster's face, but, just like an actual puppetmaster, he's always dressed in black. You know who else dresses all in black?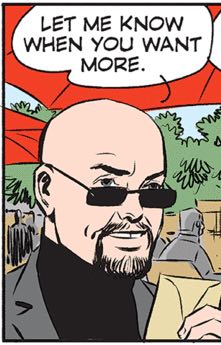 THAT'S RIGHT, BABY, IT'S RENE THE ART FORGER
HE'S NOT SATISIFED WITH FORGING ART, NOW HE'S PUTTING OUT FAKE MEDICAL SERVICES TOO
HE'S THE BAD BOY OF THIS STRIP AND HE DOESN'T CARE WHOSE TOES HE STEPS ON
BUT HE'S ALWAYS POLITE AND ENCOURAGING TO HIS ACCOMPLICES BECAUSE THAT'S JUST THE KIND OF GUY HE IS
Pluggers, 7/20/19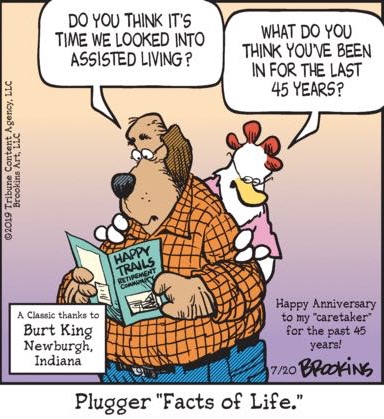 For most of us the facts of life are about sex. For pluggers, they're about the lifetime of unacknowledged and unappreciated domestic and emotional labor their wives have put in to keep them alive. Ha ha, it's funny because if the chicken-lady dies, the dog man won't survive for six months without her!
Mark Trail, 7/20/19

Does … does Mark Trail know how mines work? I'm pretty sure this isn't how mines work.