Post Content
Click the banner to contribute to the Comics Curmudgeon. Details here.

It's last day of the Comics Curmudgeon 2019 Summer Fundraiser! Urgent! Ending soon! Don't delay! Hurry!
---
Six Chix, 8/23/19

Dear Lady: Cat no ask be pet. You make cat pet! Cat is cat: leave cat be.
Between Friends, 8/23/19

The clerk hasn't found a job that values her creative writing degree, but she hasn't lost her gift for concise metaphor, either.
Mary Worth, 8/23/19

"Dear Glum Gina — Yes, I read Mary Worth, too. Don't get your hopes up."
Family Circus, 8/23/19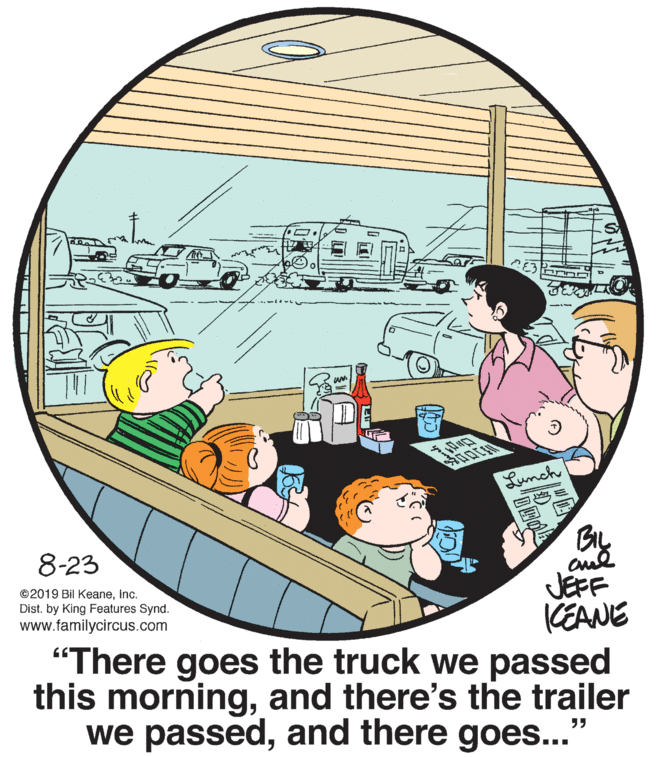 "Someday," Jeffy says, "someday the strip will be mine, and I'll show the world how it really was back then, growing up. How he was, sitting in the back seat across from me, counting the cars as we passed and yammering on about every … damn … one. And then again in the restaurant, unspooling those endless hours of drivel in reverse, car by car. Back then I couldn't do anything more than turn my head to shut him out. But someday the strip will be mine. I'll show them all, and everyone will know."
---
— Uncle Lumpy