Post Content
Blondie, 10/11/19

A little something about me, folks: I have plantar fasciitis and various hip/lower/back/hamstring problems, which means that shoes that don't work exactly right for me can cause me a lot of cumulative physical discomfort. Right now pretty much the only shoes I wear that aren't dress shoes (and thank goodness I barely ever have to wear dress shoes) are these bad boys from Keen plus their sandal equivalent, both of which I own in multiple colors at any given time. And so while to my eyes Dagwood's shoes look wildly uncomfortable, I respect the fact that he spotted the grey version of the brown shoes he always wears on sale and immediately snapped them up.
Family Circus, 10/11/19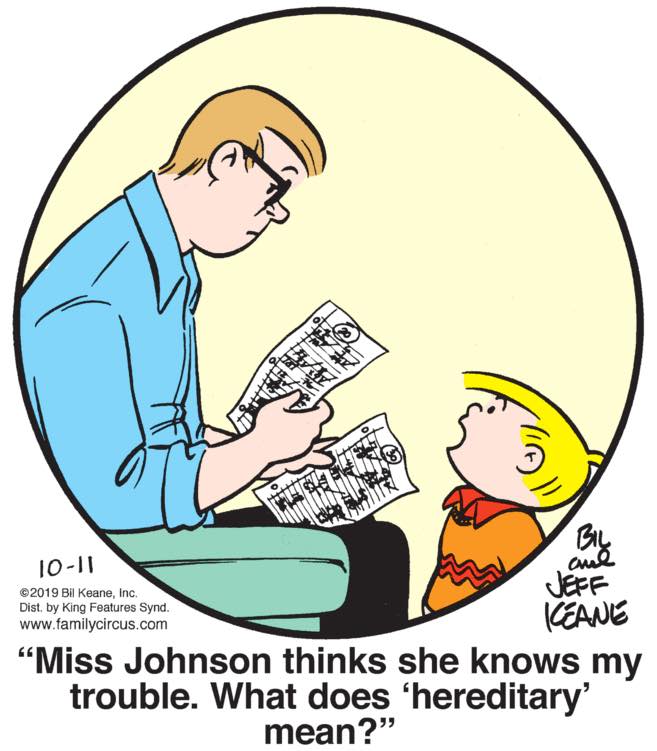 Here's another little something about me: I'm a huge baby about horror movies and thus almost never watch them, but I do like to read the plot descriptions of the really popular ones on Wikipedia, where, stripped of the filmmaking arts, they just come off as vaguely ridiculous. Anyway, based on the Wikipedia plot summary of 2018's Hereditary (and, uh, spoilers ahead for a year-old film, I guess), Billy's "trouble" is that he was supposed to be the human host for an ancient demon worshipped by a coven led by his grandmother, but the evil spirit was implanted in Jeffy instead, which quite honestly explains quite a lot.
Funky Winkerbean, 10/11/19

This is kind of Linda to say, but of course Buck already knew. They had already expressed deep intimacy the only way Funkyverse characters know how: by engaging in awful wordplay together.
Mary Worth, 10/11/19

"Look, Estelle, are you expecting emotional fulfillment from a heterosexual relationship with a man? You think I'm happy with Dr. Jeff? I barely even like Dr. Jeff. Now get out there and become Wilbur's girlfriend, for the love of Christ."