Post Content
Daddy Daze, 2/19/20

Daddy Daze Daddy's long-term plan to teach his baby to destroy … to wreak havoc … to kill … is coming along nicely!
Mother Goose and Grimm, 2/19/20

Here's today's Mother Goose and Grimm! It's about a dog who just pisses all over a seat in a movie theater.
Rex Morgan, M.D., 2/19/20

I love how Tildy is staring knowingly over her soda can at Rex in panel two. She may be a little dotty, but she definitely can feel the gears of narrative convenience churning to push her towards an ending of happy heteronormative monogamy, and she does not care for it.
The Lockhorns, 2/19/20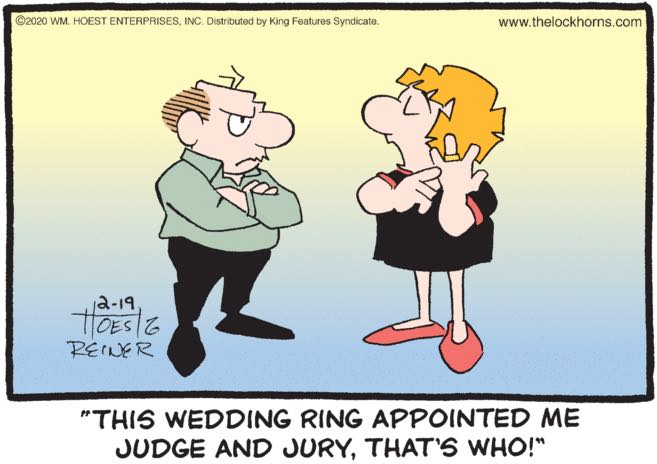 Sure, it's because Leroy and Loretta, like many cartoon characters, only have four digits on each hand, but I cannot imagine anything more on-brand than the Lockhorns wearing their wedding rings on their middle fingers.
Mark Trail, 2/19/20

"Quick, we've got to get out of here, before he finds us!"