Post Content
Family Circus, 6/20/20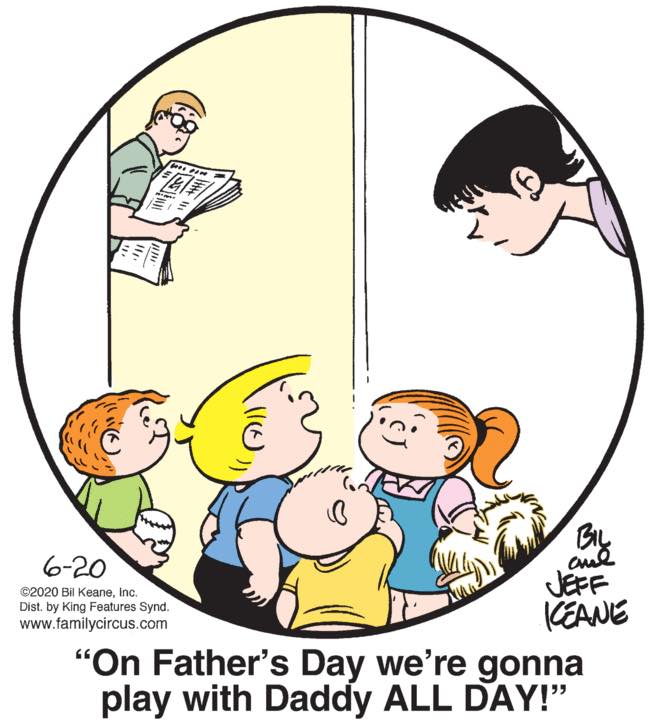 One of the Secrets of the Family Circus is that there was an original, different Big Daddy Keane, with an entirely different attitude and body plan, in the early days of the strip. While mostly he's forgotten now, you can still see hints of him in certain panels, like today's, which implies heavily that the Keane patriarch doesn't really like his kids and doesn't want to spend any time with them.
Funky Winkerbean, 6/20/20

Look, there's plenty to say about how roles for women are cast in Hollywood, with fairly transparent sexualization and an obsession with youth, but if you're looking to make that point in the most off-putting and unpleasant way possible, then sure, just have Les seething through the whole process about these dumb sluts who dare to play my precious Lisa. Despite hanging around his hip Hollywood pals, Les seems unfamiliar with the concept of hair and makeup professionals who'll be able to make whatever actress is chosen look just like Lisa, changing her hair color from … oh, look, how convenient, the syndicate colorists have done it for them.
Judge Parker, 6/20/20

OH MY GOD THE SPENCER-DRIVERS ARE EXPERIENCING FINANCIAL CONSEQUENCES FROM THEIR ACTIONS????? THIS IS INSANE AND UNPRECEDENTED