Post Content
Mary Worth, 8/29/20

If you had asked me where I might expect to encounter the line of dialogue "Pain exists. But so does hope," I would've guessed the end of the first act of a big-budget superhero origin story movie, with an anonymous hooded figure staring down at our protagonist and throwing him a rope after he'd been left for dead in a pit somewhere. Our hero climbs out but the figure is gone, but he's inspired to enter a years-long rigorous training program to make himself into the perfect fighting machine so he can defend his city from the kind of evil-doers who almost killed him, only to discover at the climax of the film that the mysterious leader of the twisted criminal syndicate he's been trying to defeat is in fact his long-ago rescuer. "We're not so different, you and I," intones the Hood as the two of them battle it out on the city's rooftops. "I made you so you could make me. A shadow cannot exist without the light." But, you know, it could be an contented retiree making amiable chitchat with a tween as they sit besides the pool on a sunny Southern California day, that would work too!
Hi and Lois, 8/29/20

Today's Hi and Lois is brought to you by the good people at the International Dairy Foods Association. In These Unprecedented Times℠, Cheese: Now More Than Ever™.
Pluggers, 8/29/20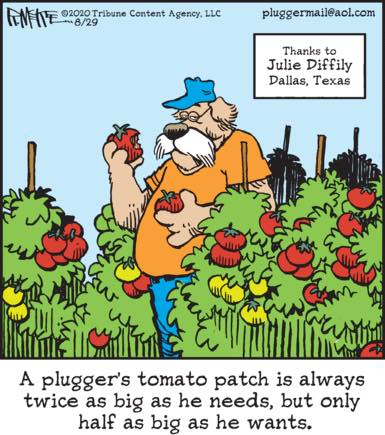 Pluggers want more tomatoes. More. More tomatoes. Do you think they've had enough tomatoes? They'll tell you when they've had enough. There will never be enough. More tomatoes. Bring more tomatoes to them. More. MORE. M O R E