Post Content
Gil Thorp, 1/9/21

So what's going in with Gil Thorp, literally several of you are wondering? Well, it turns out that Vic Doucette is killing it at P.A. announcing during the basketball games, thanks to his wordplay that dazzles the Mudlark players, whose prowess lies in the physical rather than the verbal realm. Also, it turns out that, like Vic, Doug Guthrie is a nerd, and in fact is the one kind of nerd that jocks truly respect: a car nerd, who may drive a sweet classic Pontiac but is fascinated by automobiles in all their forms, even utilitarian GM vans from the '00s. It also came up that Vic has cerebral palsy, not that you can really tell from the art, and Chevy Astros are apparently commonly converted for wheelchair use, but Vic doesn't use a wheelchair so this may or may not be relevant? Maybe Doug is a car monomaniac and literally has to ask about the make and model of every single vehicle he sees. He's just another brightly colored piece of glass in the rich mosaic of Milford High.
Family Circus, 1/9/21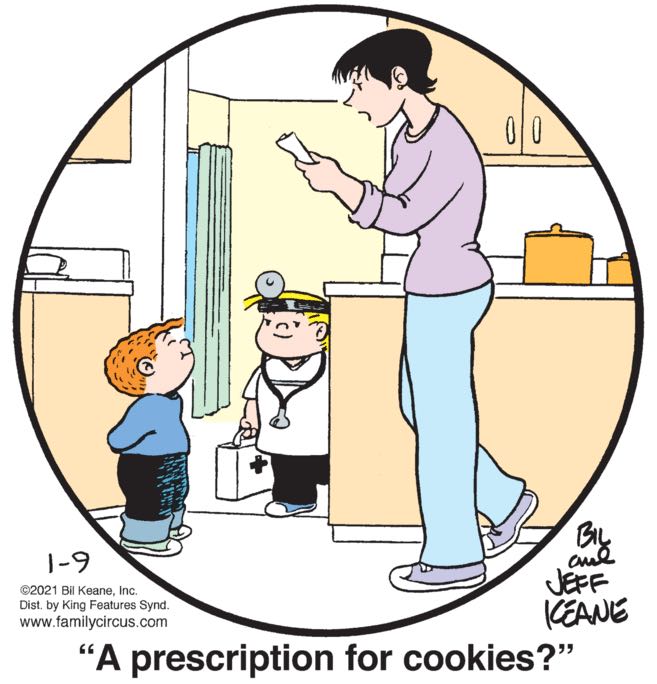 Jeffy is a simple child, and looks smug because he thinks he's about to get a cookie. But Billy? Billy, for all his faults (and there are many), plays a longer game, and has realized that even the guy who graduates bottom of his class from the easiest medical school to get into has access to a prescription pad, which will open up a lot of opportunities for a guy with frankly not much of a moral compass.
Pluggers, 1/9/21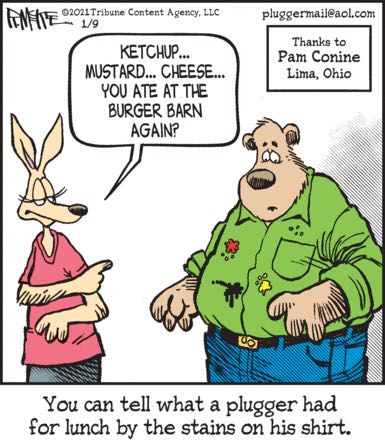 Hey, Pluggers, a more succinct and better caption here would've been "Plugger CSI," you're welcome