Post Content
Dick Tracy, 2/18/21

I just kind of assumed that, as a high-ranking detective in the Major Crimes Unit, Dick Tracy was, if not living on easy street, then at least financially comfortable. But today we learn that he's so short of cash that he's been reduced to using leftover Chinese food for gambling purposes, and thinks a single dollar bill represents "pay dirt." Truly sad that those snitches in Internal Affairs say you're not allowed to put stuff from the evidence locker up for auction on the dark web anymore!
Six Chix, 2/18/21

I … guess this is a riff on the "I eat pieces of shit like you for breakfast" bit in the beloved 1996 Adam Sandler film Happy Gilmore? Except that cats really do eat fish, and it isn't gross at all or embarrassing for the cat say that? I suppose if Six Chix were going to do a strip where the entire joke was substituting the word "fish" for the word "shit" because they sound vaguely alike, they could've made it a lot more disgusting than this, so let's count our blessings.
Dennis the Menace, 2/18/21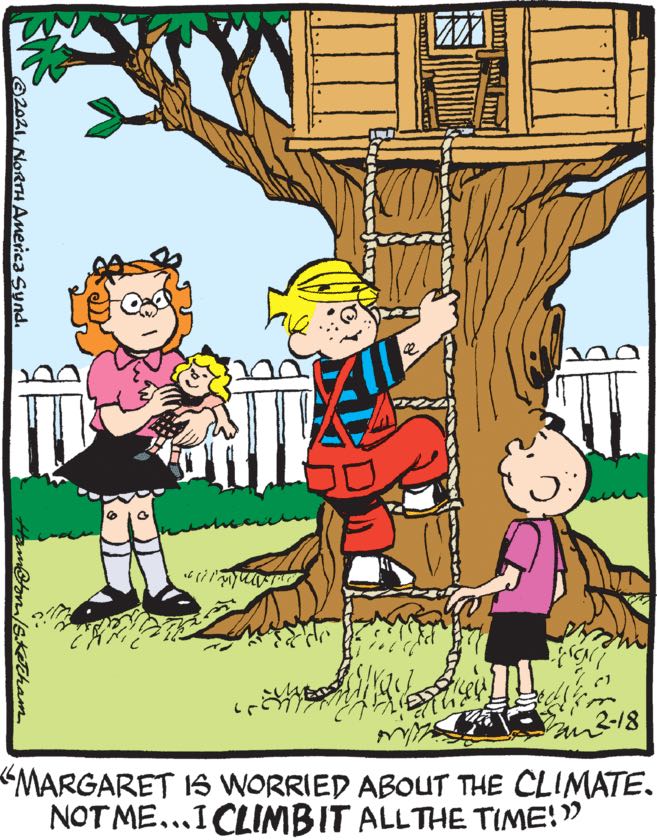 Dennis has a plan for rising sea levels in the wake of melting ice caps, everyone: he's gonna climb this tree! It's not a plan with a lot of thought towards next steps or long term consequences, but it is a plan nevertheless.