Post Content
Dick Tracy, 7/27/21

Look, I have no insider knowledge and I'm not saying that the Dick Tracy creative team is in the midst of a contract dispute with their syndicate, but I am saying that if they were, claiming that "I don't need the comics pages, I could get into the lucrative game design business" wouldn't be the worst negotiate tactic! It would work a lot better if they actually owned the rights to Dick Tracy so they could turn it into a game, though.
Rex Morgan, M.D., 7/27/21

Say, have you somehow, against all odds, gotten emotionally invested in the character of Kyle Vidpa/Jake Rowling? Well, if so, the fact that he appears to be on the verge of fatherhood is probably making you feel … something? This is making you feel something, right? Sound off in the comments to let us know that that might be, exactly!
Mother Goose and Grimm, 7/27/21

We all, of course, are familiar with Grimm, one of the beloved title characters in Mother Goose and Grimm. Today's installment of that strip poses the question: what if Grimm died, and was condemned to eternal torture in Hell, forever outside of God's grace? That's a real knee-slapper, if you think about it!
Pluggers, 7/27/21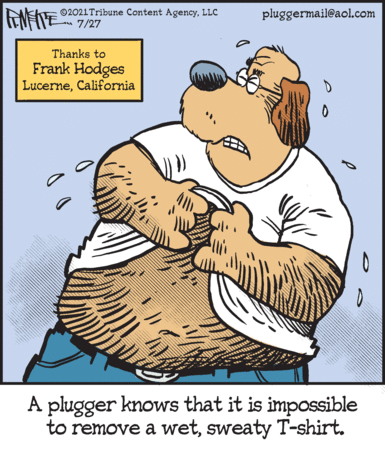 AWWW YEAH IT'S THE PLUGGERS WET T-SHIRT PANEL YOU ALL ASKED FOR
WAIT, WHAT'S THAT? YOU DIDN'T ASK FOR THIS? YOU NEVER COULD'VE EVEN CONCEIVED OF ASKING FOR THIS?
HUH! LOOKS LIKE WE'RE ALL BEING TORTURED FOREVER OUTSIDE OF GOD'S GRACE, I GUESS