Post Content
Barney Google and Snuffy Smith, 7/26/21

Remember Bizzy Buzz Buzz, the Snuffy Smith character who was named after a popular (?) 1960s toy and whose whole deal is that she likes to obsessively clean things? Well, she's back. This lovable unaccompanied minor who just can't get enough of doing unpaid labor for her kinfolk is back! She will be returning every 3-5 years to this strip whether you like it or not, so you might as well grit your teeth and fall in love with her, it'll be easier that way.
Funky Winkerbean, 7/26/21

Ah, well, it seems like Phil's death-faking may have been a bit less involved than I had anticipated, and really the only people possibly facing any legal consequences would be the lawyers who straight-up lied to Darrin about why they were sending those covers to him, but what's a little light lying for a client, who it's been established was sort of cheated out of a lot revenue for his comics creations and probably couldn't pay you very much in the first place? Anyway, it turns out Phil mostly faked his death because he didn't like attention, but then after a few years he realized that in fact maybe he was wrong about that, so he revealed that he was alive in an extremely dramatic fashion at a packed comics convention, so everyone could pay attention to him and his insane life choices.
Dustin, 7/26/21

We all love the comic strip Dustin, because it's brought balance to the Generation Wars by proving that everyone, whether they're a Silent or a Boomer or a Gen Xer or a Millennial or a Zoomer, is basically unlikeable. But have you been waiting for the strip to take on a bold new frontier by getting unpleasantly horny? Well, good news!
Pluggers, 7/26/21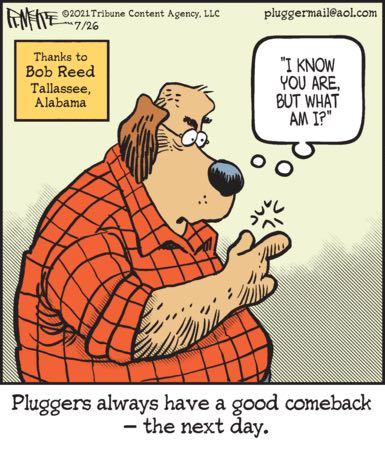 Say, did you know there's a French phrase for this very phenomenon? It's l'esprit de l'escalier, which literally means "the spirit of the staircase," the idea being that you think of the perfect bon mot as you're walking up the stairs to your apartment after you've left the party. In related news, I thought of the phrase that's mostly likely to trigger a plugger into a violent rage, and it's "Say, did you know there's a French phrase for this very phenomenon?"