Post Content
Hi and Lois, 10/5/21

I'm not sure when, strictly speaking, we can say that untucked shirts came into fashion, but I'm going to say that it's been … pretty much my entire adult life? And I'm 47? Anyway, I like how absolutely thrilled Hi looks in panel one. He never thought he'd live to see the day when a man might untuck his shirttails and still retain his dignity, but that day has arrived, and his life has been transformed.
Marvin, 10/5/21

There are two big narrative problems with this strip. One is that Bitsy's character model includes full-time collar wearing — he's got one on in this very strip — so it's weird for the fish to imply that it's a potty-specific accessory. Maybe this should've said "leash"? Two, fish "go potty" in their own bowl, turning their very environment into a stew of their own wastes, which is surely more shameful than however you want to think about what dogs have going on this department. The thing I hate about Marvin is that it makes you think about pissing and shitting on several narrative layers at any given moment.
Pluggers, 10/5/21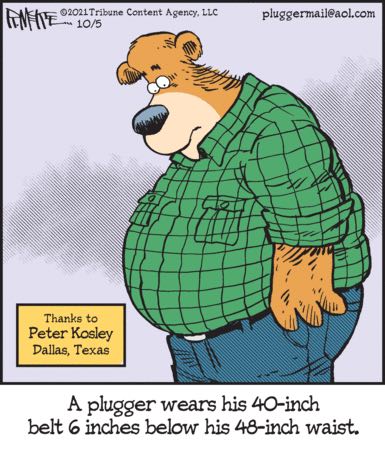 Look, when pluggers are all smug about how down-homey and real-American they are, I enjoy getting riled up about it. But when they're wracked with shame about their strange, man-animal bodies? That's a lot less fun, in my opinion. Please, pluggers, get your act together so you may remain a worthy antagonist for me!
Mother Goose and Grimm, 10/5/21

Jokes on you, Grimm! That guy's not a man at all! He's a bird!