Post Content
Mother Goose and Grimm, 1/15/22

One of the last pure pleasures of social media is when some bizarre bit of pop culture ephemera from decades past gets surfaced and passed around, and last summer many of us had some good fun with "Inhalants," a song from McGruff the Crime Dog's 1987 anti-drug album that, as a viral tweet put it, "sounds like New Order."
So, I have one note on this otherwise amazing song, which is that "inhalants" is a pretty technical term and probably most kids don't know that it means, like, huffing paint or sniffing glue, but otherwise this a banger of a track that manages to pack a lot of emotions in to the gimmicky McGruff voice, and I immediately thought of it when I saw today's Mother Goose and Grimm. This McGruff? The one with the thousand-yard stare and a barful of empty shot glasses in front of him? That's the guy who sings "they can break you in two" about inhalants and you can tell he knows exactly what he's talking about.
Family Circus, 1/15/22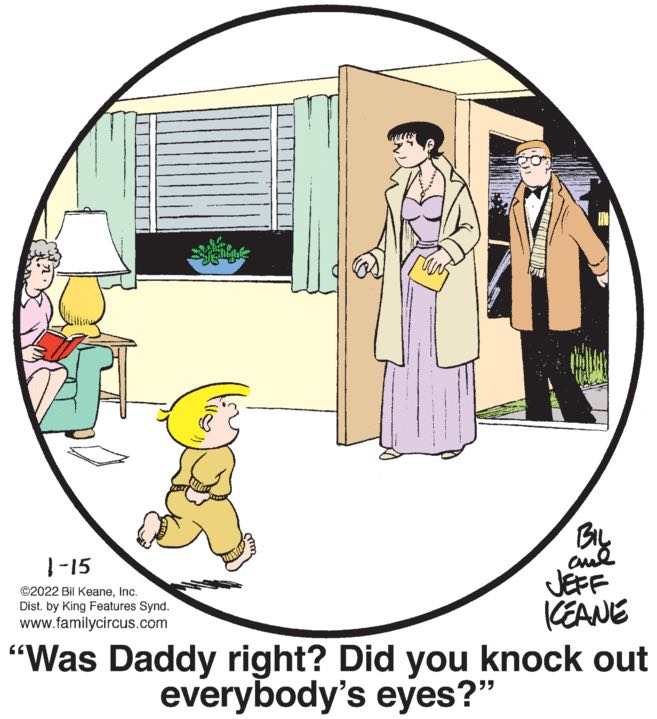 Guys, I've been spending a lot of time staring at this Family Circus, in which Billy eagerly stares at his mother in a low-cut dress and talks about people getting their eyes knocked out, and trying to come up with an Oedipus joke and I just can't quite make the pieces fit together. I feel like I've let you all down on this one and promise to do better in the future.
Dennis the Menace, 1/15/22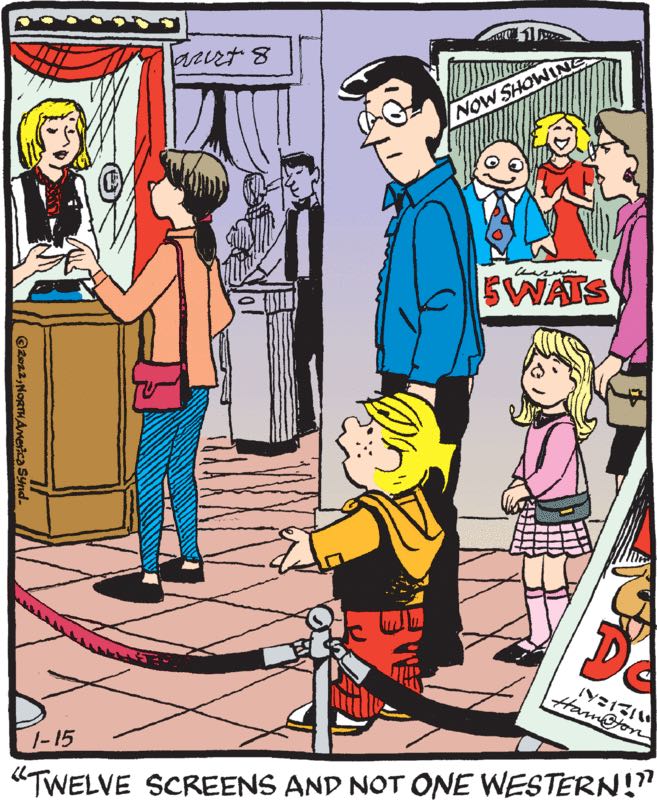 A child amazed by the number of screens in a multiplex but angry that no Western films are on offer? The only menace he represents is one to the integrity of the space-time continuum if he ever returns to his native year of 1953 with knowledge of the future!
Mary Worth, 1/15/22

"Well, he didn't jump, exactly … here, let me show you the video, but hold on a second while I queue up 'Yakety Sax.'"