Post Content
Dustin, 5/6/22

Dustin is a truly amazing strip, one whose whole purpose is to poke fun of the foibles of young people despite clearly having no real sense of how young people live their lives, and one of the ways this manifests, as I have frequently griped, is that the young people characters go to fern bars in order to seek out romantic entanglements, like it's the god-damned Reagan Administration or something. I guess some garbled communication has filtered back to Dustin HQ that modern hookup culture is entirely focused on dating apps now, which could explain why this young lady is at a fern bar but also on her laptop for some reason.
Hi and Lois, 5/6/22

I was going to make fun of Hi for seeming so shocked that Chip and his date might go dutch, but then I realized he has that same slack-jawed befuddled look in panel one as the conversation begins, too. Honestly, he looks like that a lot of the time! That Hi Flagston, just a befuddled dipshit stumbling his way through life on the funny pages!
Pluggers, 5/6/22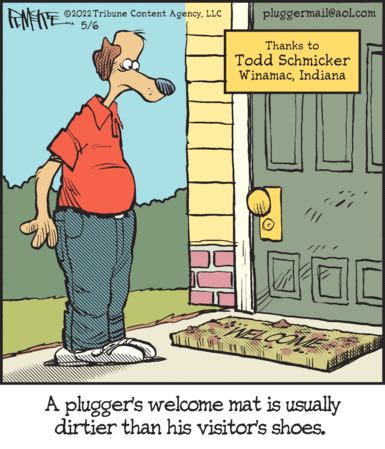 Ha ha, I absolutely love the look on that dog-man's face. It's gonna be real horror show in that house and this guy knows it.