Post Content
Dennis the Menace, 1/14/22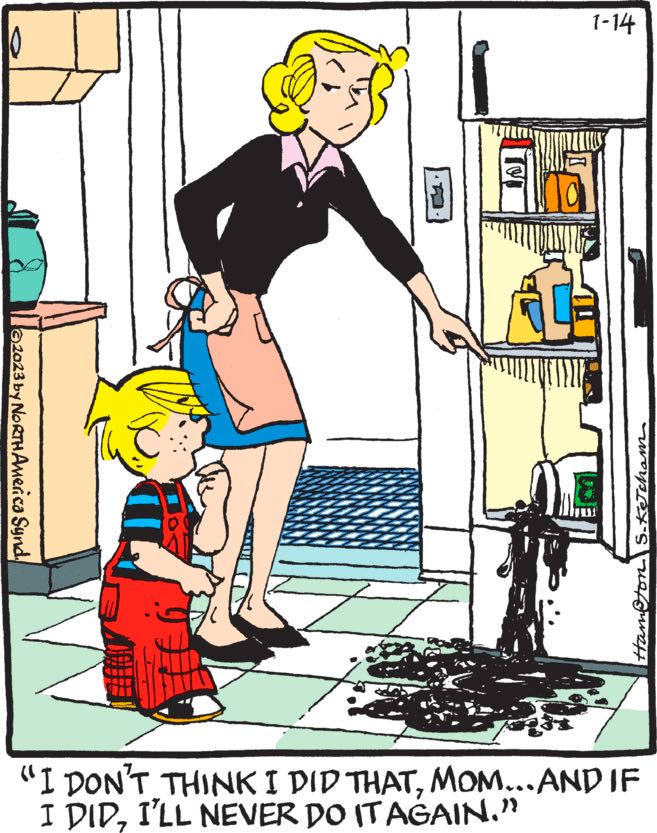 Look, Alice, if you don't want your giant jar of evil black goo spilled out all over the floor, unleashing an ancient demonic power that mankind has no defense against, maybe don't leave it where your five-year-old son can so easily reach it, you know?
Barney Google and Snuffy Smith, 1/14/22

Snuffy Smith, notorious layabout, card cheater, and chicken thief, definitely doesn't give a shit about civility or honesty, but chivalry is at its root a code of honor that provides an ideological justification for violent conflicts over women and status, so I suppose that's something someone embedded in Hootin' Holler's world of clan-based feuds would be interested in maintaining.
Rex Morgan, M.D., 1/14/22

It has come to our attention that some of our readers have found our episodes of June dealing with minor medical problems a little too exciting. That's why we've pivoted to "June transparently tries to get out of a conversation with someone she finds annoying," to keep everyone's blood pressure at healthy levels.