Post Content
FOLKS, I neglected in yesterday's return post to promote the big event of Comics Award Season: The Fifteenth (!) Annual Worthy Awards, in which faithful reader Wanders nominates the best of Mary Worth's 2022 shenanigans and you, the readers, pick the winners. You'll be choosing the Panel of the Year, Quote of the Year, outstanding performances from regular and guest characters, and, of course, the most coveted award of all, Outstanding Floating Head. Vote early and often!
Dennis the Menace, 1/3/23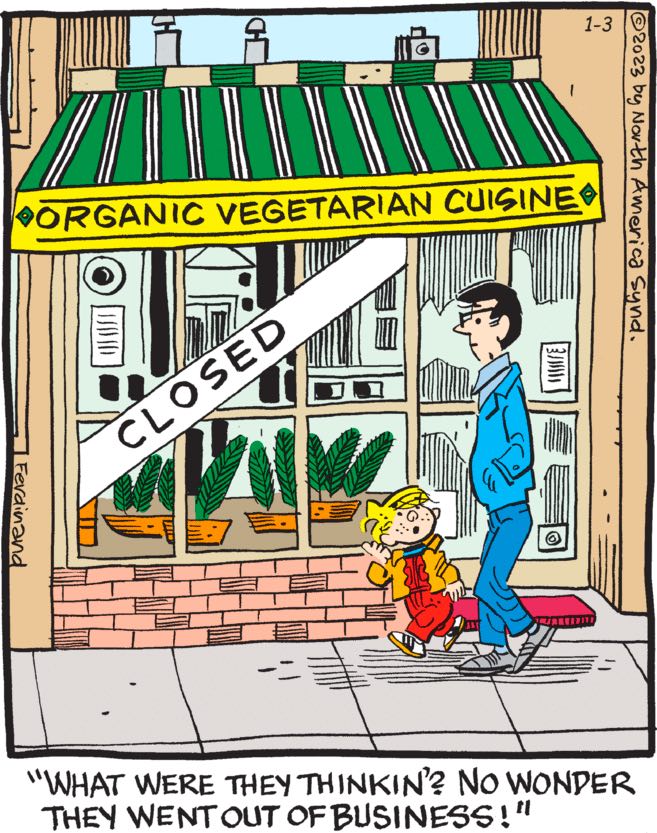 Man, look, I don't know if the menace here is supposed to be "Ha ha, Dennis thinks his childhood likes and dislikes reflect the overall business climate" or "Ha ha, vegetarians, amiright, even a child knows they're gross," but what really bothers me here are the … things … inside the shuttered restaurant. Are they potted plants — like a lot of potted plants, like way too many potted plants for a small space? Are they bowls containing the aforementioned organic vegetarian cuisine, as drawn by someone whose restaurant habits are Applebee's-centric and this is what they think vegetarians eat? Are they leftover bowls of vegetarian meals that, abandoned by their creators, have sprouted into aggressive, powerful plants that will have their revenge on us? Each option is more unsettling than the last.
Gasoline Alley, 1/3/23

Couldn't really tell you how Gasoline Alley got to this point but I am amusing myself by trying to figure out what terrible emergency at the North Pole would get Santa to abruptly abandon his tropical vacation. Like, probably a violent elf labor revolt that his trained Pinkertons have been unable to suppress, right? Or maybe word has gotten back that Mrs. Claus is having a dalliance with Jack Frost or something? Honestly, the funniest answer is that Rudolf is trained to summon him on a fake "emergency" if a child insists on talking to him for more than ten minutes during his vacation, and they're just going to circle back to the beach as soon as the kids leave.
Mother Goose and Grimm, 1/3/23

Meanwhile, diabolical scientists in Mother Goose and Grimm have created a perfume so alluring that it will stir up murderous violence in anyone who so much as sniffs it! Or it's just deadly poisonous, honestly kind of hard to tell what they're getting at.