Rex Morgan, M.D., 8/1/15
Oh, boy, as noted by Uncle Lumpy, deranged industrialist/nanny-marrier Milton Avery is back in the strip! When we last saw Milton a few years back in a plot I seem to have not covered in particular depth, his heart was on the verge of exploding because of his tightly wound business asshole lifestyle. After being vaguely threatening towards Rex for no good reason, it turned out that his real worry wasn't over his heart, but his brain, which he was convinced was failing him. "You don't have Alzheimer's Disease until Rex says you do," Heather declared, and I don't remember if Rex weighed in one way or the other but today it's pretty clear that he has Alzheimer's Disease, or at least some other flavor of dementia. Looks like we've already found the excitiment of this new plot: can a senile and extremely wealthy man's legal team keep him out of jail after he stabs a household employee to death?
Heathcliff, 8/1/15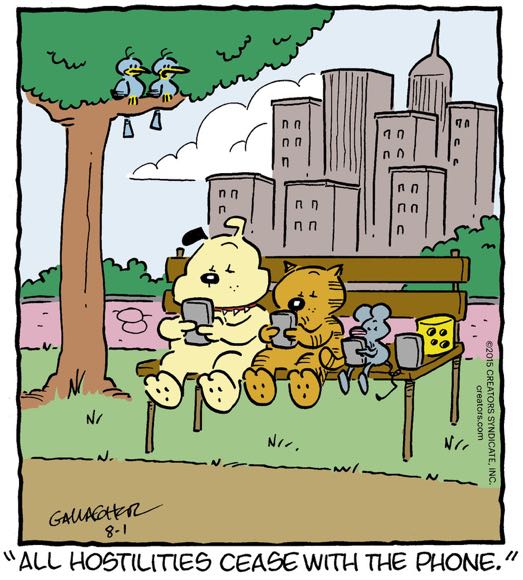 Ha ha, yes, phones certainly do have a soporific effect that can smooth out conflict but also the passion of a life truly lived in the moment and OH MY GOD WHY IS THERE A PHONE IN FRONT OF THAT WEDGE OF SWISS CHEESE? Is the cheese alive? Has the Heathcliff creative team decided that, since all animals, predator and prey, are fully sapient in the strip, why not extend this to inanimate objects? Is every Heathcliff panel full of individual consciousnesses embedded in everything, fully aware, unable to communicate, and screaming?