Post Content
So, today was the 75th anniversary of the beginning of Dick Tracy! Many of the strips distributed by the same syndicate offered their tributes today, which were for the most part significantly less wanktastic than Blondie's endless anniversary hijinks. The awards for the two least seamless nods go to:
Gil Thorp, 10/4/06

Gil Thorp, which features a namecheck by a teenager who never reads the paper and wouldn't read a 75-year-old comic strip if he did, and who was at most two years old when the most recent movie incarnation of the franchise came out; and…
Shoe, 10/4/06

Shoe, which features Detective Tracy's severed head in a case behind Roz's bar, with death's grim rictus forcing him to feign amusement at this awful joke.
In non-Dick Tracy news:
Mary Worth, 10/4/06

Actually, it seems to me that in a single evening you corrected things quite nicely.
Seriously, I'm really beginning to believe that Mary and her crew are just going to talk themselves into a sense of guiltless satisfaction. If this is the beginning of the all-singing, all-dancing, all-sociopathic Mary Worth, then I'm going to just embrace it and run with it. I can't wait to see what murderous crimes they're going to escalate to next! "Yes, perhaps crucifying Mr. Jenkins in the Charterstone courtyard and leaving him to die over a period of days was a bit harsh, but he did tread on the flowerbed, and there is a sign warning against doing just that, so in a real sense, this is all his doing."
Rex Morgan, M.D., 10/4/06
Wow. So, it looks like June and Heather are on the verge of a full-on makeout session, with Rex watching from afar and thinking "ME LIKEY!" Could this strip get any more polymorpheously perverse — or divorced from its ostensible narrative content?
June seems pretty upset that Heather's petty personal problems have ruined her vacation plans. I'm surprised Heather even bothers to bring up her mother's feelings, which are clearly not as important as June's, who had already picked out the kilt Rex was going to wear. All this clan stuff sounds promising to me, though; Heather's English, if I remember right, so maybe we'll get into some kind of Anglo-Scot hatred storyline that will baffle the vast majority of Americans for whom all "those people over there" are pretty much indistinguishable.
They'll Do It Every Time, 10/4/06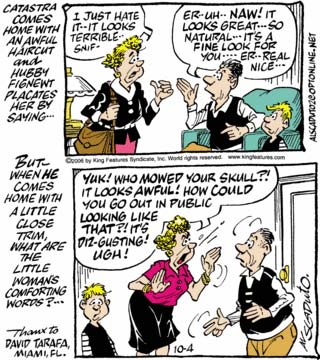 YEAH, THAT'S JUST HOW IT IS! 'CAUSE YOU STILL LOVE HER, BUT SHE LOATHES THE VERY SIGHT OF YOU! WHAT'RE YA GONNA DO? HAW HAW! Ah, whimsy.
UPDATE: So it turns out that "David Tarafa" is actually faithful reader and occasional commentor Lambnesiac, who is the first Curmudgeonite to be successfully TDIETed. And, uh, whose marriage is I'm sure much, much healthier than the Scadutotization would have you believe. Uh. Heh.