Post Content
Blondie, 7/10/07

Ah, the dilemma for lady-lovin' comics readers: if you want to see a Blondie love scene, you have to put up with Dagwood foreplay.
Curtis, 7/10/07

I've been deliberately ignoring the Curtis-Michelle drama, as is my wont, but: damn if I don't want to see this "puppeteer" and his be-afro'd, freakily big-mouthed "puppet" as often as possible. As a regular character, he could replace Gunk, as far as I'm concerned. Or Barry.
Dick Tracy, 7/10/07
See, here's a strip that's still got a few tricks up its sleeve. I think we all expected that the "Grandfather" in the tradeoff would really be Dick Tracy in disguise. I don't think any of us expected that he would peel said disguise off of his face, causing the still-lifelike features to stretch and melt like some kind of peyote-fueled nightmare.
Mark Trail, 7/10/07

OH MY GOD SHE HIT ME IN THE FACE WITH HER FACE
Marmaduke, 7/10/07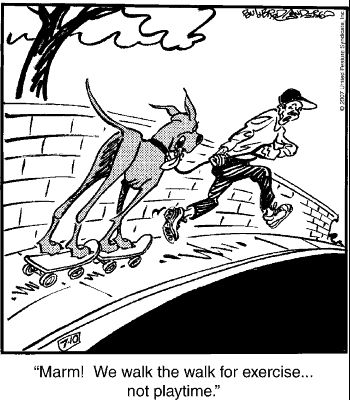 And pooping, right? Don't forget about pooping. You forget about pooping at your own risk. I've seen your yard; it's not that big.
Zits, 7/10/07

Holy crap, is Walt smoking a blunt on the back porch? YOU ARE MY NEW HERO, SIR!