Post Content
For Better Or For Worse and They'll Do It Every Time, 12/18/07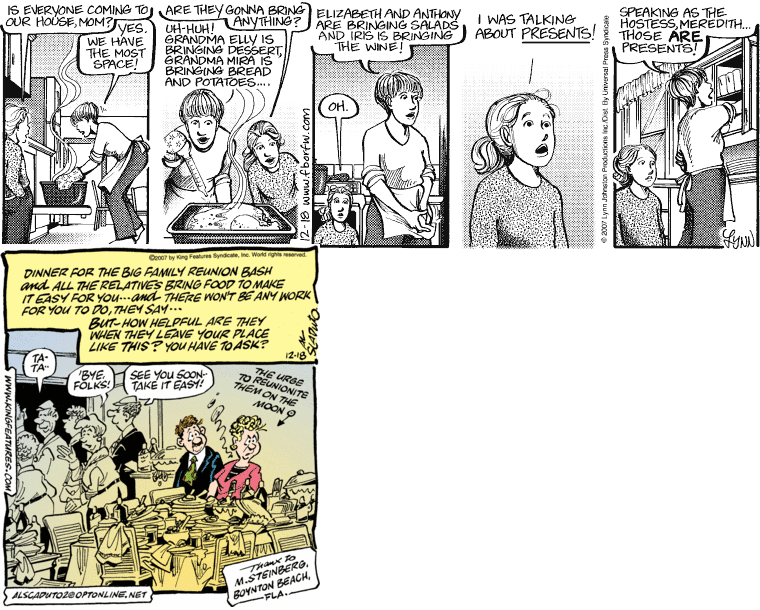 Just to show how deeply the FOOB hooks have sunk into all of our hearts, I'd like to confess that, like several commentors, I was doing the math in my head yesterday when April said that there'd be 14 guests at the Christmas Patterbash. Who would the extra two be? Today we learn that they'll be Deanna's parents, which I am quite frankly very pleased about. Deanna's mother may be awful and hateful, but there will be nobody for that hate to be focused on except her in-laws, and that can only be a good thing. Her constant harping and barely passive aggression should up the chance of someone getting punched in the face, and I'm going to need to hold on to that possibility if I'm going to make it through this.
Deanna may be pleased now about how much help she'll be getting from her guests in the food prep department, but today's TDIET holds a clue to her inevitable post-party future. The glassy-eyed Deanna-bot will no doubt be grimly polishing the dishes long into the evening, as Mike teaches the kids how to break things, or, more likely, hides in his attic office, staring at the computer screen and indulging in an inner monologue in which self-doubt provides a thin veneer for self-aggrandizing.
(Bonus Scadutoism: "Reunionite.")
Apartment 3-G, 12/18/07

Directions Eric could be going with this:
"Look, Margo, it's been fun having sex with you and all, but this is pretty much where I start making excuses for not seeing you."
"It's just that … having seen the horror of my parents' marriage … I just don't know if I can ever truly … commit myself …" (Note: May be cover story for previous bullet point.)
"Oh, you're from a dysfunctional family too? And have never learned to express feelings in any kind of healthy way either? Well, we're perfect for each other then!"
"Margo, what I'm trying to say is that you remind me of my mother. And my mother is fucking terrifying."
Curtis, 12/18/07
Despite my Curmudgeonly status, I must give props to even those corny jokes that give me little guffaws of joy, and the image that Curtis offers today — of snowflakes that are really tiny elf turds — definitely did that. I might feel differently the next time it snows and I'm unable to get the image out of my head. I also like the way Curtis is rooting around the branches of the Christmas tree, looking for anything even remotely edible to cram down his insatiable gullet.

Dear Funky Winkerbean:
Ahem.
A "SOLO CAR DATE" IS NOT A REAL THING THAT ANYONE ACTUALLY SAYS. REPEATING IT OVER AND OVER WILL NOT MAKE IT A REAL THING THAT ANYONE ACTUALLY SAYS.
I thank you for your time.
Sincerely,
The Comics Curmudgeon
Archie, 12/18/07

"To be honest, though, I think a lot of people are just stopping by his booth to stare at his crotch."