Post Content
Crock, 12/12/07

Today's Crock has plenty of little run-of-the-mill terrible touches — like, for instance, the word balloon in panel two, clearly drawn for three lines of text, but with only two lines of text actually floating in it. But I'm sort of intrigued by the random pink squiggles in the background of the first panel. I'd like to believe that they're blood streaks on the wall from the last perky thin saleslady who tried to talk smack about Grossie, but it's more likely that someone was trying to draw some clothing racks in the background to add a little detail to the scene and then suddenly realized that no, wait, this is Crock, what am I doing.
Luann, 12/12/07
I thought that for sheer irritation, nothing could beat the "Dirk and Brad compete for Toni's affection via the Christmas food drive" storyline from a couple of years back, but now I can see that the "Brad and Toni sublimate their incomprehensible attraction via the Christmas food drive" is going to come close. Brad's Neanderthal suggestion that a meeting isn't a date unless he's paying will presumably blow up in his face when he cruises to food-gathering victory (thanks to TJ coming through with a bunch of cans of Dinty Moore stew that "fell off the back of a truck"), leaving him to enjoy a meal of lobster (which he will adamantly insist is NOT A DATE) and loneliness.
Mark Trail, 12/12/07

Luke Wilson spotted canoodling with mystery woman!
Luke Wilson, star of such Hollywood pictures as The Royal Tenenbaums and Old School, has been seen around town with a mysterious dark-haired and arch-eyebrowed beauty. The picture below was snapped as they left the Ivy last month: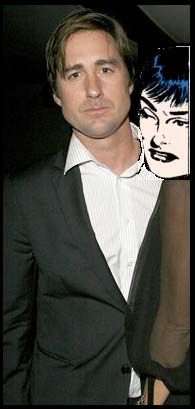 Now reports are coming in that this lady is married — or was, until her husband's murder last month. Hollywood is abuzz with the notion that Luke, long known as the "not crazy Wilson brother", might have something to do with the dastardly deed. Though a mustachioed French-Canadian hillbilly has been jailed for the crime, NOAA weather spokesman Mark Trail insists that the Quebecker is innocent. "You exploited a friend of mine's fiery temper!" Trail was heard to shout at Wilson at a party at Chateau Marmont.
Family Circus, 12/12/07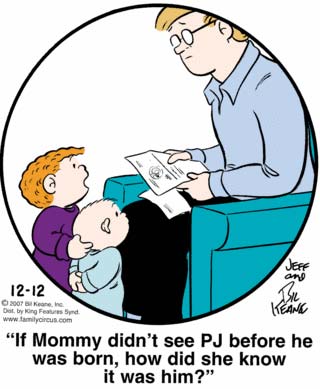 I'm not sure what exactly those papers are that Big Daddy Keane is holding in his lap, but they look official, what with the seal on top and everything. Let's hope they're the forms for committing Jeffy to that special school far away so that nobody has to listen to his idiotic questions anymore.