Post Content
Mark Trail, 12/13/07

Steve McQueen death hoax shocker!
Shocking evidence from north of the border indicates that movie legend Steve McQueen, universally thought to have died in Mexico in 1980 after receiving nontraditional treatment for his lung cancer, may have faked his death and moved to Canada to achieve his lifelong fantasy: to become a Mountie! "After being a racecar driver and an actor, if Steve could have done one thing, it would have been to join the RCMP," former wife Ali MacGraw was quoted as saying in a 1986 interview. Now this photo, taken by an anonymous source in a rural Canadian town, confirms that McQueen has been living his dream for the last three decades: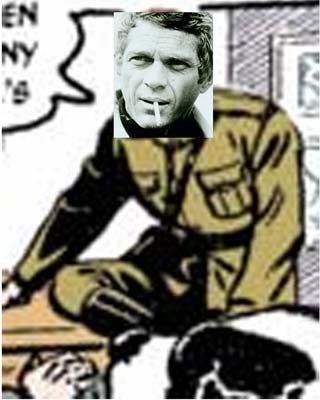 At 77, Sergeant McQueen is the oldest active member of the RCMP.
Judge Parker, 12/13/07

Let's ignore for the moment the Magical MacGuffin brownies that are only going to disappoint us. Judging by the rather blurry appearance of Sophie in the background, she's gotten tired of the constant mockery of her lilac pantsuits. Presumably, after carefully studying information she found on the subject on the Internet and making a detailed list of the pros and cons, she decided that it was time for her to experience puberty.
Family Circus, 12/13/07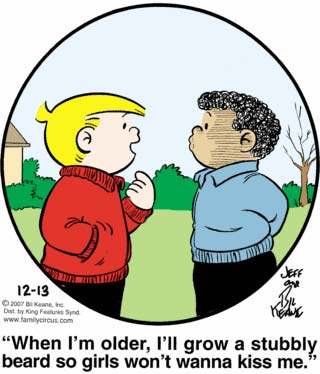 Or you could just try opening your mouth, Billy. That ought to work pretty well.
For Better Or For Worse, 12/13/07

YES! GIRLFIGHT! GIRLFIGHT! GIRLFIGHT FOR ANTHONY AND FRANCIE'S LOOOOOOOVE! MOST POINTLESS GIRLFIGHT IN THE HISTORY OF GIRLFIGHTS!
Gil Thorp, 12/13/07

Oh my gosh, "Slow down!" That's even one step beyond "Ease up"! Surely some terribly carnage is about to commence.
Sally Forth, 12/13/07

Goodness, it's nice to see Ted Forth feeling better. He's high on life! And possibly meth.