Post Content
OK, we'll get to the COTW and runners-up momentarily, but first, several items of interest.
First! You may remember some days back that Uncle Lumpy posted a link to an honest-to-god real recording of "Tarzana Nights" by Kalamazoo-based songsters/madmen the New Real People. But today I am authorized to actually show you a picture of the recording session in progress (taken by faithful reader Jules), which I guarantee will blow your minds: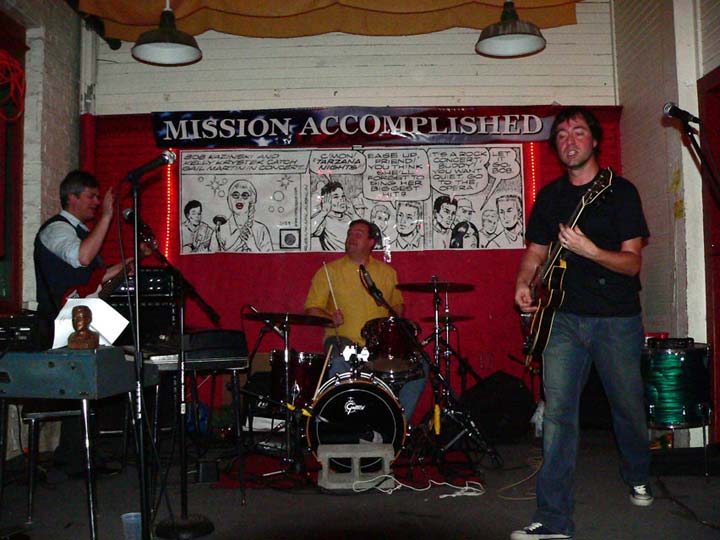 I would have loved to have seen the look on the face of the hapless Kinko's employee who was handed the infamous "Ease up, friend" strip and told to blow it up to such gargantuan proportions. Remember, you can relive the magic on the New Real People's Web site.
Speaking of Gil Thorp insanity, did you know that there's now an official, authorized-by-the-syndicate Gil Thorp Facebook group? You young people who use the Facebook should totally join. I got the tip from the brilliant This Week In Milford blog, your source for all things Thorpian, which, naturally, also has a Facebook group. (As do I! Goodness gracious, with the technology!)
Also! I have received another adorable picture of a child wearing Comics Curmudgeon gear, in this case a Fist o' Justice shirt. That's little Lee, son of faithful reader Robert: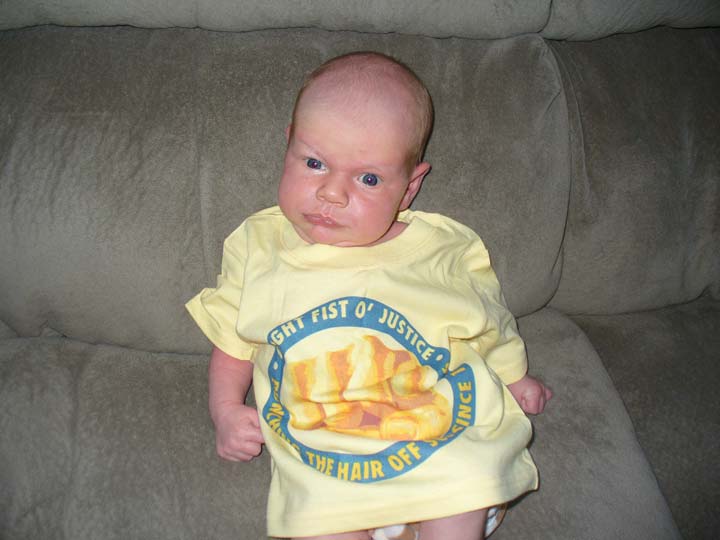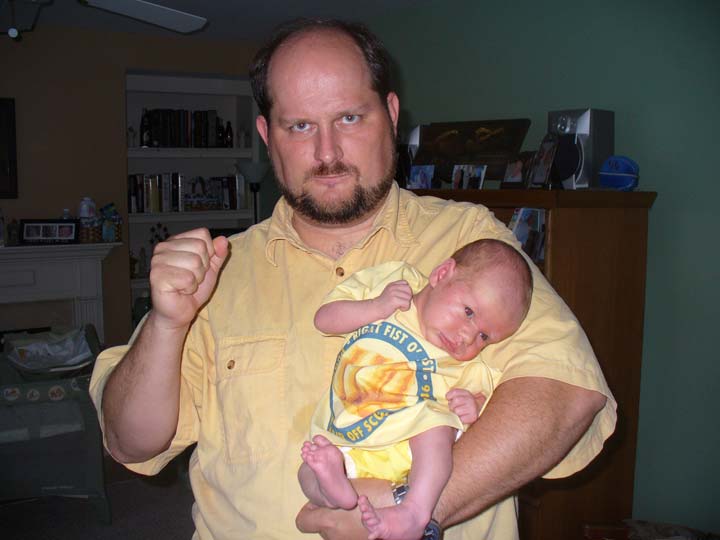 "He so does like to punch stuff!" says Robert of his four-week-old son.
Also! Faithful reader ChattyGenes posted an Aldomania ditty that you might enjoy.
And finally, at long last, brace yourself for the COMMENT OF THE WEEK!
"Mary Worth wears Depends with Snoopy's picture on them, and the slogan 'Happiness is a Warm Poopy.'" –The Spectacular Spider-Brick
(That's a reference to this horror, if you're confused.)
It was a hard choice this week, as the runners-up are also hilarious:
"I hate Curtis. I hate Curtis' hat. Dear lord, how I hate that hat." –Sully

"What Mr. Abner needs is a puppy!" –blueberrygrrrl

"Gosh, I remember when I was in marching band in the suburbs of Cleveland and cut out every single comic making fun of Wally playing the trombone, because gosh-dang it, I played the trombone, and it made me so happy to know that the comics pages reflected me — a Northeastern Ohio high schooler playing trombone on a muddy football field for a losing football team in the snow. Somewhere in Northeastern Ohio, an angry, cantankerous, cancerous former pizza store owner is cutting out today's strip and proudly taping it on his refrigerator." –Sunny Paris

"Let's see … Dolly badly botching the lyrics to a song that only elderly people are likely to know, ending up in a malapropism. That's it! Dolly is starting her Crankshaft training." –Mibbitmaker

"Jack, meanwhile, clearly doesn't know Margo very well at all. 'Help you? Yeah, look, unless her sweater's green because it's actually made of money, I'm going to deal with the paintings here, thanks. Don't let our flirtation make you think I have any interest in real human compassion — you want that crap, see if Alan will rent you Lu Ann for the hour.'" –Windier E. Megatons

"Before we enquire into Dolly's rationale for singing boardwalk songs on Independence Day, perhaps we should determine the alcoholic content of whatever she has in that bucket." –odinthor

"If Gabriella faints at 'the presence of evil' anyplace where low-level drug dealing and bad art occurs, how can she even enter lower Manhattan without immediately slipping into a coma?" –Hank

"I can't wait for the bridezilla'ing to start. And the single malt. We're gonna need it." –Islamorada Girl

"Liz looks like the doll off the top of the music box, only about 10000 times more smug and entitled. 'I did it! I finally did it! I fulfilled everyone's expectations! Now I never have to think about anything ever again! Go me!'" –Shoebox

"Please let that be the plastic bag from the dry cleaners that Grandma Marion is preparing to clamp over Liz's smug head. 'Wear MY dress to marry a divorced man?! I'll smother you first!'" –Stroker Ace

"Deanna has a pretty dreamy look as she cops a feel on Lizardbreath. Almost as if she finally has found a way to have sex with a Patterson." –Lockestep

"What [Margo'in] reason would the Santa Royale city council have for calling two emergency meetings, two evenings in a row? More complaints about the old people smell? They're never going to get rid of that." –PeteMoss
And finally, I must give it up for those who put some money in my tip jar, and to my advertisers:
To find out more about advertising on this site, click here.