Post Content
Slylock Fox, 4/18/11

When your cartoon is populated by anthropomorphic animals, you eventually run into awkwardness when you need to introduce some non- or semi-anthropomorphic animals, a conundrum known to philosophers as the "Goofy-Pluto Paradox." Here, for instance, we have a a gaggle of clothed, house-dwelling animals confronting a pair of naked (albeit still bipedal, or at least upright) animals who are accused of doing animal-type things like eating tomatoes on the vine. Are the snake and raccoon meant to be understood as mere beasts? Or do they belong to some caste that is oppressed and excluded from Slylock-world society due to prejudice, despite their ability to reason? Either way, once Slylock fingers the guilty party, it looks like he'll be subject to brutal mob justice rather than taken under the gentle wing of owl law.
B.C., 4/18/11

Speaking of sentient animals, here's a sentient bird who chose a bad hiding place and now is going to be devoured alive! That … that's the joke, I guess?
Mark Trail, 4/18/11

You might find the premise of this strip incredibly unrealistic, but think about it: if someone were so unable to understand human nature that they would consider Mark a good guy to approach with a "personal problem," then he'd probably also have trouble relating even to the people closest to him.
Pluggers, 4/18/11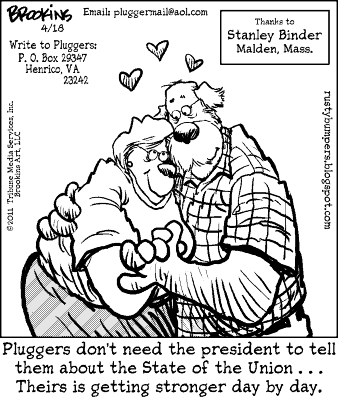 Yes, these hideous mutant abominations will continue to mate with one another and produce ever more freakish offspring — no matter what our elected officials in Washington say or do. I think our only hope is to call in the military.