Post Content
Click the banner to help sponsor Josh's novel and to reserve your copy! Details here.
---
Mark Trail, 7/25/12

Rusty and his suddenly piercing blue eyes seem to have gone through some kind of handsomification (or at least de-hideousification) process, but don't worry, he's still alone in his room muttering furiously about "sheep killers" and "dead animals."
Barney Google and Snuffy Smith, 7/25/12

I've always assumed that Hootin' Holler was a socially conservative enclave, but it appears to actually be a polyamorous commune.
Hagar the Horrible, 7/25/12

Hagar the Horrible, the protagonist of a beloved nationally syndicated comic strip, is a thug who always takes what he wants with violence and threats of violence.
Pluggers, 7/25/12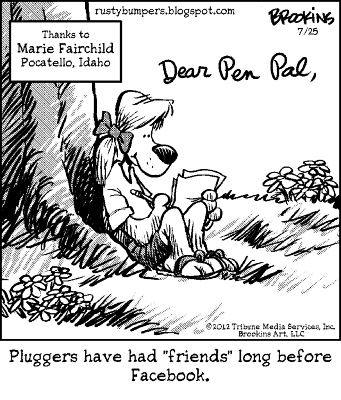 Even before the Internet, pluggers could only make "friends" with people who lived far, far away from them.
Spider-Man, 7/25/12

"Let's stare at them as he casually saunters away!"